Hey guys! So my next review and giveaway is for
Tropical Traditions Coconut Peanut Butter
.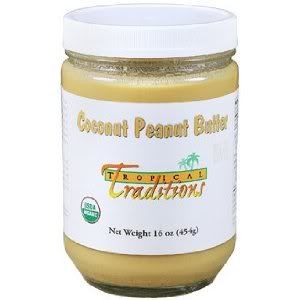 As the website says:
"Tropical Traditions Organic Coconut Peanut Butter is made from organic peanuts and organic coconut. Two ingredients: nothing else! No fillers, no binders, no sweeteners, and no preservatives. Together, these premium organic roasted peanuts and the premium organic dried coconut are ground together to make a delicious and nutritious spread!"
This peanut butter tasted pretty good there was just one problem: it melted! It wasn't even 80 degrees out and the PB was just liquidy. I read on the jar that when it gets hot the oil separates but...this wasn't just oil this was the entire peanut butter. It also said that if you put it in the fridge it will become really hard and tough to spread. So they recommend a cool, dry place...the place where I placed this peanut butter was a cool, dry place and yet it still melted and it wasn't even that hot out. So watch out.
I did manage to spread some on half of an english muffin, it was actually dripping off the bread if I tilted it to eat it, so yeah I am serious with the liquidification. It wasn't that coconutty either, you can taste a hint of coconut but it was mostly peanut butter with a little hint of coconut, not coconut peanut butter in my opinion.
But the flavor overally wasn't so bad, I mean it is messy because it's liquidy but if you're all for the health benefits that the coconut oil then this is worth a shot. Also I liked that it only had 2 ingredients peanuts and coconuts, at least I knew exactly what I was eating.
So overall this peanut butter wasn't so bad just find a super duper cool place to put it or else it will melt and not even when it was hot out, that wasn the disappointing factor of this product. Also I kind of wished it was more coconutty. But it was peanut buttery which is good because if it tasted like something else that obviously would not have been good, haha. And I'm not going to lie, I'm still going to keep using it because I do love my peanut butter, no matter how gooey it is.
But Tropical Traditions doesn't only have coconut oil, they've got a wide range of skin care products, household goods, organic food, pet products and more!
Buy It!
Head on over to
Tropical Tradition's Web Site
and browse their wide selection.
Win It!
ONE winner will receive their own jar of Tropical Traditions Coconut Peanut Butter.
1. Go to
Tropical Traditions' website
and tell me what other product you'd like to try next.
Please answer this question or else your comment will not count! You must do this first or future entries will not be counted.
(1 entry)
BONUS ENTRIES
2.
Subscribe to Tropical Tradtion's email list.
(1 entry)
3.
Follow Tropical Traditions on twitter.
(1 entry)
4.
Become a fan of Tropical Traditions on facebook.
(1 entry)
5. Subscribe by Email and Confirm that Subscription (1 entry)
6. Follow StarIMPULSE on Blogger. (2 entries!)
7. Follow me on Twitter. (1 entry)
8. Tweet about this giveaway and send me a direct link to that tweet, you can do this once a day. (1 entry per day)
9. Subscribe to my YouTube channel. (1 entry)
10. Add my StarIMPULSE button to your sidebar and send me think link to your blog so I can see it. (1 entry)
11. Add StarIMPULSE to your blogroll (using my URL), with a link back to me! (1 entry)
ONE winner will be chosen on June 8th, 2010 at 5:00pm (EST) and then will be emailed.
Alternate winners will be chosen if winner does not respond after 48 hours. This contest is only open to all US and Canadian Residents. Thank you and good luck!
Disclaimer-
Disclaimer: Tropical Traditions provided me with a free sample of this product to review, and I was under no obligation to review it if I so chose. Nor was I under any obligation to write a positive review or sponsor a product giveaway in return for the free product.
You can read more about my blog policies in my disclaimer.