Hey guys! So my next review is for the band
One eskimO
. I received their self-titled debut album in the mail. I was able to do this review thanks to the
One2One Network
.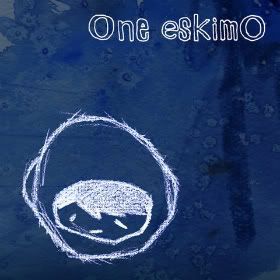 One eskimO is a critically-acclaimed English band fronted by singer-songwriter Kristian Leontiou and includes musicians Pete Rinaldi (guitar), Jamie Sefton (bass, horns) and Adam Falkner (drums). Currently their single "Kandi" is the #1 adult alternative song, so you've probably heard this song. I actually heard it playing at one random store in the city the other day.
One eskimO has been compared to bands like Snow Patrol and Sigur Rós, but I'm not gonna like I still like Snow Patrol's "Chocolate" a lot better than One eskimO's "Chocolate." It's not that they're bad it's just they're very slow and mellow and ALL their songs are kind of very slow and mellow. I did enjoy their single "Kandi" though mainly because it has a catchy hook as it's chorus "he called me baby, baby, baby, all night long." It was a bit more upbeat too, the rest of the songs kind of sounded the same to me, there wasn't much differences. In a way they kind of reminded me of Damien Rice, they kind of have that slowness. But you know how sometimes Damien Rice's songs get kind of louder and climactic? These songs just stay mellow.
Again you can tell they're talented but I like pep and fast beats. I understand sometimes you gotta have some slow songs but I don't like when the entire CD is slow. "Kandi" is my favorite on the CD and you can tell why it is the single because it stands out from the other songs. "Givin' Up" was my second favorite because it's a little faster than the rest, much like "Kandi" this song does stick out too.
But check them out if you like that type of music to zone out to. They're currently on tour and I feel like they'd be one of those bands that would probably be good to see live. Not much electronica or whatever and a lot of the main singer singing, so you can kind of tell that they're the perfect live band.
Here's their tour dates:
May 25 Charleston, SC The Music Farm
Jun 01 Toronto, ON The Guvernment
Jun 03 New York, NY The Beach at Governor's Island
Jun 04 Boston, MA House of Blues
Jun 05 Essex Junction, VT Camplain Valley Expo
Jun 06 Hunter, NY Mountain Jam Festival
Jun 08 Royal Oak, MI Royal Oak Music Thtr
Jun 09 Grand Rapids, MI Orbit Room
Jun 12 Memphis, TN Minglewood Hall
Jun 13 Kansas City, MO Crossroads
Aug 14 Denver, CO Mile High Festival
Buy It!
Buy their debut album's deluxe addition on iTunes
here
. Or if you're still skeptical you can download their song "Astronauts" for free on twitter
here
.