Hey guys so my next review and giveaway is for It Works Body Wraps thanks again to
Beauty Bambina
I received an
It Works Ultimate Body Applicator
. As the website says the
"The Ultimate Body Applicator is a non-woven cloth wrap that has been infused with a powerful, botanically-based formula to deliver maximum tightening, toning, and firming results when applied to the skin."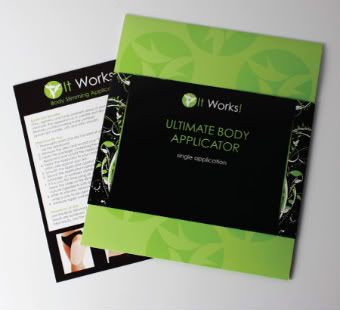 I did take a picture of the wrap on my stomach but my computer crashed and as did the most recent pictures...so I lost it. I'm really sorry.
Continuing what the website says it:
"It continuously hydrates for firmer, smoother, more youthful-looking skin and reduces the appearance of cellulite and skin slackening. See results in 45 minutes. This single package contains one Ultimate Body Applicator™ that can be applied to the area of your choice, such as the abdomen, back, legs, or arms. Easy to apply and comes ready to use."
I put on a unitard over this so it would stay on because you need to put something tight over it to keep it on. It gave a kind of tingly warm sensation and it wasn't hard to take off or give you a rash. It was very simple and easy to use, a little sticky from the lotion on it but that's how all lotiony stuff is. But I just liked that it was very easy to use and not that messy, all you have to do is rub the excess lotion into your skin after you finish using the wrap and you're good to go. It also smelled very soothing, not bad but kind of almost minty? It was very soothing.
It was kind of hard to see that much of a difference but you could kind of tell. I don't have a measuring tape so it was kind of hard for me to measure if I lost any inches I just had to judge it via the mirror. But I'm sure if you continuing the product, for instance they have a four pack of them and I feel like if you use these four times you will definitely see a difference. Even the website says:
"Although most begin to see improvements after the first application, some may take up to 3-4 applications to achieve optimal results. Those who are on medications and/or who have toxic systems may fit in this category."
So if you don't see a difference don't worry, just try it again! Somethings don't just happen over night, you know?
To be honest though it was probably dumb of me to put it on my abdomen because I think my upper thighs are more of a problem area for me so I should've put it on there but I figured abdomen was easier and since there's only one I didn't just want to do one leg if that makes sense?
But all in all it seems like a very cool product. You can use it on your abs, your legs, your arms, they even have ones for your chin and neck.
Buy It!
Check out here to order the
It Works Body Wraps
or here to order the
It Works Chin Applicators
. You can also call 866-526-7337 to place an order. It costs only $29 for a single applicator.
Win It!
ONE winner will receive one
It Works Body Applicator
!
1. Search through the
It Works
website and comment telling me a fact you found out.
Please answer this question or else your comment will not count! You must do this first or future entries will not be counted.
(1 entry)
BONUS ENTRIES
2.
Follow Beauty Bambina on Twitter.
(1 entry)
3.
Subscribe to Beauty Bambina's blog.
(1 entry)
4. Subscribe by Email and Confirm that Subscription (1 entry)
5. Follow StarIMPULSE on Blogger. (2 entries!)
6. Follow me on Twitter. (1 entry)
7. Tweet about this giveaway and send me a direct link to that tweet, you can do this once a day. (1 entry per day)
8. Subscribe to my YouTube channel. (1 entry per day)
9. Add my StarIMPULSE button to your sidebar and send me think link to your blog so I can see it. (1 entry)
10. Add StarIMPULSE to your blogroll (using my URL), with a link back to me! (1 entry)
11. Blog about this giveaway and link
Beauty Bambina
as the sponsor! (1 entry)
ONE winner will be chosen on June 7th, 2010 at 5:00pm (EST) and then will be emailed.
Alternate winners will be chosen if winner does not respond after 48 hours. This contest is only open to all US Residents. Thank you and good luck!
Disclaimer-
I was provided a product in exchange for my review.
You can read more about my blog policies in my disclaimer.