Hey guys so my next review is for
Pangea Organics
. Pangea Organics is a great organic bath and body product company that believes in "Accentuating the positive and eliminating the negative." The website says:
"Buying Pangea Organics products does more than make your body feel good. It means you're supporting sustainable agriculture and culture – everything from fair trade sourcing and organic farming to living wages and the use of renewable, recycled and recyclable resources. In other words, good for you, good for every body."
I received three awesome products in the mail: Tunisian Olive Oil and Coconut Soap, Italian Red Mandarin With Rose Facial Cream, and 2 little packet samples of their Japanese Matcha Tea with Acai and Goji Berry Facial Mask.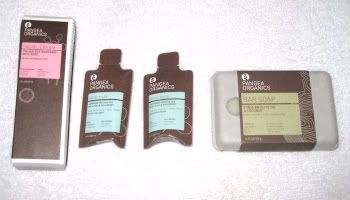 I really liked these products. They didn't dry out my skin or irritate it, if anything my skin became much smoother after using these products. But it's hard to review them at the same time, let's review them one by one.
Tunisian Olive Oil and Coconut Bar of Soap
: This soap didn't smell which was kind of nice because nice because a lot of soaps nowadays are crazy overwhelming in smell and sometimes it's a bit too much. This soap was very nice and a great combination because the olive oil was very gentle on your skin while the coconut softens, protects, and moisturizes your skin. You can tell how much softer your skin is after you use it. One complaint is that it didn't last as long as regular soap. But this could be because the soap is organic and made with natural ingredients that probably don't last as long as the artificially made one which you know to be honest, I'd rather it not last as long then if it's better for you and better for the environment.
Italian Red Mandarin with Rose Facial Cream
: My skin alwaysss gets dried out no matter what kind of cream I use it just alwaysss dries out. So I tried using this cream and to be honest I think it works the best. It's for dry to mature skin. I particularly liked this cream a lot because it didn't have that oily and greasy after feeling. You know how sometimes you put some cream on your skin and it has that nasty greasy feeling? Yeah, this one didn't have it. In fact, it hardly felt like you had anything on your skin. Another thing I liked about this was how again the smell wasn't too overwhelming. It did have a faint smell and it smelled very refreshing but it wasn't crazy strong. In fact, it actually won a few awards for its excellence in skincare in 2007's Redbook MVP Beauty Awards and Natural Health's 2006 Natural Beauty Award and it definitely deserved it. I really enjoyed this cream, I think it was my favorite product I received of theirs because it worked better than any other facial cream I've used before.
Japanese Matcha Tea with Acai and Goji Berry Facial Mask
: This is the product that Pangea Organics is most known for. In fact, after I received this product I saw it in Time Out New York in a feature on the Hair castmembers and their favorite skin products. One guy picked this facial mask, yeah a GUY, so fellas hop on this. It's not the best looking mask though, just a forewarning. It looks a lot like mud and does not smell much better. But you know what? What mask actually does look good? Whether it be green or brown they're all fairly unflattering. Plus who cares what it looks like? As long as it gets the job done. And you know what? It totally did! I slapped this baby on for a few minutes and after I washed it off I immediately felt a difference. My face felt so smooth and soft, it was awesome. Overall, I really did love this mask and I'm kind of jealous I only received 2 little samples...but hey at least I got to try it which was so worth it! This product also won quite a few awards too, SIX in total, their most recent is 2009's Better Nutrition "Best Beauty Awards" for Best Skin Care.
All in all, these are fantastic skincare products. They did their job well and really took care of your skin. They were very gentle and made your skin feel sooo soft. Definitely check out their amazing selection.
Buy It!
Definitely check out their amazing body and skincare products at
Pangea Organics's website.
Or click on the
Find Us
link and see if it is being sold at a store near you. It looks like it's sold at most Whole Foods Markets, Vitamin Shoppes, and many more local boutiques and food markets, check it out!