Hey guys! So my next review is for
THE TEA SET
. THE TEA SET is this really great tea company based out of New York City that has a various assorment of delicious loose leaf teas. I was sent the Finest Mint tea.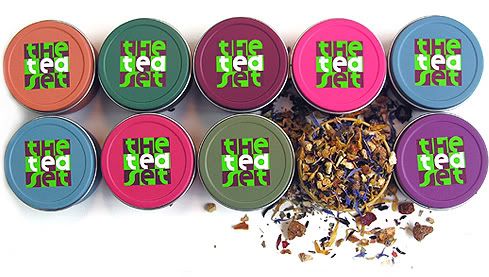 This is what the website says about the Finest Mint tea:
"The Finest Mint from THE TEA SET – NEW YORK is fresh pleasure anytime during day or night. Organic and Fairtrade. Spearmint herb will rejuvenate all our SET members. Spearmint has a wonderful digestion vertu. Herbals have strong benefits. They have a large numbers of virtuedepends on their fruits, herbs, spices or vegetables compositions. Herbals are caffeine free so you can enjoy them day and night."
Also about their herbal teas in general they say:
"THE TEA SET – NEW YORK are made from anything other than the leaves of the tea bush. A large variety of succulent flavors will make you travel … Enjoy our wonderful flavored, scented and blended herbals. All our finest herbals are ORGANICS certified, FAIRTRADE (certified when we can) , Kosher certified, and chosen from the best productions in the world. Herbals have strong benefits. They have a large numbers of virtue depends on their fruits, herbs, spices or vegetables compositions."
I'm not going to lie, I was very nervous trying this tea out. Don't get me wrong, I love teas almost any tea from chamomile to coconut but mint tea? That didn't sound very appealing to me, but I tried it nonetheless. I mean I like mint and I like tea why can't I like mint tea?
But I tried it and you know what? It's not that bad. I kind of like it. It's good because the mint isn't extremely powerful either, the spearmint was a nice enough flavor to soothe you but not overwhelm you. That's another great thing about this tea is how soothing it was. I had this tea right before bed and I slept like a baby. I mean it's great in the morning too but a lot of people need caffeine in the morning and this tea doesn't have that so I personally recommend it for nighttime, just because it relaxes you and just gets you in the mood to get some shut eye.
I also liked that this was loose leaf tea just because I get to use my little teapot. :) Don't be nervous because it's a loose leaf either, all you need is little teapot and a strainer and it's crazy easy to drink. Even without a strainer.
THE TEA SET
is a great company that has a great selection of teas, a selection of over 100 teas actually. From Green teas, White teas, Oolong teas, and more. There's definitely a tea for everyone to try.