Hey guys! So my next review and giveaway is for Vapur. As the website says:
" Vapur is the first flexible water bottle designed to fit in your pocket, purse, backpack or briefcase. Unlike rigid water bottles that are full of hot air when empty, Vapur can be rolled, folded or flattened and tucked away. This means it goes more places and fits in tighter spaces than any other bottle."
They come in a bunch of colors, too. This is what I received: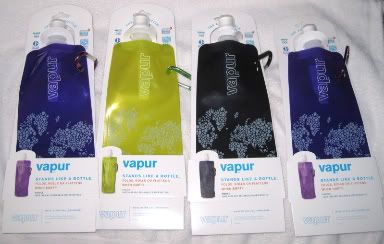 I thought Vapur was really, really cool. First of all, let me just say I like water, heck I love it and I think those reusable water bottles are genuinely a good idea and great for the environment, too! But they are bulky and I hate carrying them around because I always have a lot of crap in my bag and can never fit the big water bottle. So instead guess what I do? I buy a water bottle at school. And we all know that that is not good for the environment. So Vapur is great for people like me, people who have a lot of crap but can fit this little flexible water bottle in their bag or – if they can't – just let it hang with the little hook it comes with. Then when I go home, I can finish the water and just roll the Vapur up in my bag.
It's really cool too, the shape and style of it kind of reminds me of Capri Sun from back in the day except it's made with hard plastic and it's longer and bigger than the Capri Sun juices, but just to give you an idea of how it works. It can be flat when it's empty but when it's filled up it stands like a bottle.
But more importantly, Vapur is on a mission. Vapur wants to get the word out about the World Water Crisis that is going on right now. They want to stop or at least slow down the use of buying plastic bottle water because not only is it unhealthy for the environment, it costs a lot too! As the website says:
"A years supply of bottled water can cost thousands of dollars depending on the brand. Water from the tap? About 51 cents per year."
Wow! I know people are getting freaked out about tap water now but I don't understand why. We don't live in Mexico, we can drink our tap water people!
Also so I brought this too school and drank literally EVERYONE asked about it. They thought it was the coolest thing and being that I have extra I'm going to give one to my friend one of my classes because she liked it so much. But yeah it was definitely a hit! I was actually kind of surprised but I guess if I saw someone drinking out of something like this I would think it would be the coolest thing ever too.
Vapur is a really cool product and if for some reason mine break anytime soon (I hope not! But I don't think they will.) I'm definitely buying another! Vapur, although you didn't complete your mission but you got one person – me to stop buying water bottles. So thanks!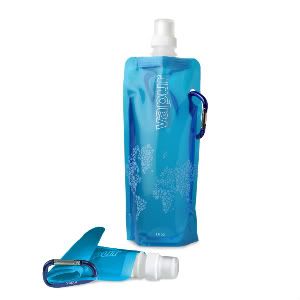 Buy It!
Head on over to
Vapur's store website
and pick a color. They're only $8.95 each which may sound a little steep but it's such a handy product and there's nothing like it out there right now so it's so worth it.
Win It!
ONE winner will receive a Vapur anti-bottle of their choice!
1. Comment telling me what color you'd like.
Please answer this question or else your comment will not count! You must do this first or future entries will not be counted.
(1 entry)
BONUS ENTRIES
2. Subscribe by Email and Confirm that Subscription (1 entry)
3. Follow StarIMPULSE on Blogger. (2 entries!)
4. Follow me on Twitter. (1 entry)
5. Tweet about this giveaway and send me a direct link to that tweet, you can do this once a day. (1 entry per day)
6. Subscribe to my YouTube channel. (1 entry per day)
7. Add my StarIMPULSE button to your sidebar and send me think link to your blog so I can see it. (1 entry)
8. Add StarIMPULSE to your blogroll (using my URL), with a link back to me! (1 entry)
ONE winner will be chosen on May 17th, 2010 at 9:00pm (EST) and then will be emailed.
Alternate winners will be chosen if winner does not respond after 48 hours. This contest is only open to all US Residents. Thank you and good luck!
Disclaimer-
I was provided a product in exchange for my review.
You can read more about my blog policies in my disclaimer.