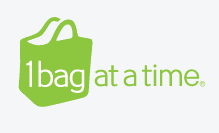 Hey guys! So my next review and giveaway is for 1 Bag at a Time! 1 Bag at a Time is this really cool reusable grocery bag company. I received one bag in grass green.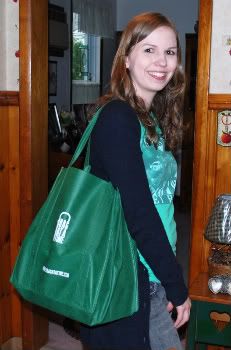 I really liked this bag because it's not too big or too small and it's not made with that weird, cheap plasticy stuff that some reusable bags are made out of. This is a nice fabric that you know will last you more than just a few trips to the grocery store. The fabric it's made out of also repels liquids, odors, and dirt so you don't really need to wash it off. Just a quick shake and wipe and bam! Also they're bags are stylish, yes this one is just the basic one but they have ones with flowers on them and all that cute stuff.
Also what's great is that it has a bottom stiffener, so when you open it up everything that you put in it can stand up straight and won't just fall everywhere like with regular bags and it easily flattens and folds up. The straps are also long enough to put over your shoulder.
The bags also are a nice size too, one bag can hold the equivalent load of 3 to 4 plastic bags or 2 paper bags. It doesn't even look that big, when it's flat but once you open it up you can tell it holds quite a bit.
But their name isn't "1 Bag at a Time" for nothing. Their name actually stands for their cause. As the website says:
"For me, it's not just about bags. It's a simple concept to reduce waste and create a cleaner, healthier life for ourselves, each other, and our planet. My mission is simple—saving the world, 1 Bag at a Time."
I'm a big supporter of reusable bags. When I studied abroad in London and we went food shopping we bought reusable ones from Sainsbury because they're a lot easier and more durable, especially when you have to walk home with your groceries. Here back at home I'm a bit more lax about it because I have my car so I don't care so much if I use the plastic bags and I know that's wrong. But when I go food shopping I go with my mom and we just buy so much shit. In London it was simple, 2 big reusable bags a trip, mainly because it was just me and my food. At home we have to feed a family…so yeah, we're cheap we don't want to spend the 30 cents to buy reusable bags. And it's dumb because that mere 30 cents is actually saving the planet soo much. So I think I'm going to rethink the whole plastic bag thing, and you should too.
Did you know that plastic bags have petroleum? Yeah 14 of them contain enough to drive your car a mile. Think about that when you're using them. I know you might say well I don't use plastic bags I use paper, well they're not too good either, they might even be worse. Paper bags aren't biodegrable in landfills due to lack of oxygen. Also 70% more global warming gases are released making a paper bag than making a plastic bag.
Check out their website for more information on how reusable bags help the environment, people, and the planet. It's really cool information and makes you look at the way you shop and use bags differently.
Well 1 Bag at a Time, though you haven't saved the world yet, it looks like you're on the right path to get there!
Buy It!
Head on over to
One Bag at a Time's website
and browse their great selection of reusable bags!
Win It!
One winner will receive a standard bag in any color of their choice!
1. Comment telling me what color you'd like. You can check out the colors
here.
Please answer this question or else your comment will not count! You must do this first or future entries will not be counted.
(1 entry)
BONUS ENTRIES
2. Subscribe by Email and Confirm that Subscription (1 entry)
3. Follow StarIMPULSE on Blogger. (2 entries!)
4. Follow me on Twitter. (1 entry)
5. Tweet about this giveaway and send me a direct link to that tweet, you can do this once a day. (1 entry per day)
6. Subscribe to my YouTube channel. (1 entry per day)
7. Add my StarIMPULSE button to your sidebar and send me think link to your blog so I can see it. (1 entry)
8. Add StarIMPULSE to your blogroll (using my URL), with a link back to me! (1 entry)
ONE winner will be chosen on May 17th, 2010 at 5:00pm (EST) and then will be emailed.
Alternate winners will be chosen if winner does not respond after 48 hours. This contest is only open to all US Residents. Thank you and good luck!
Disclaimer-
I was provided a product in exchange for my review.
You can read more about my blog policies in my disclaimer.