Hey guys! So my next review and giveaway is for
Opaleen
! Opaleen is a fantastic jewelry website that sells beautiful rings, earrings, bracelets, and necklaces. All of their pieces are so pretty and all of them are very reasonably priced. I received three pieces to review.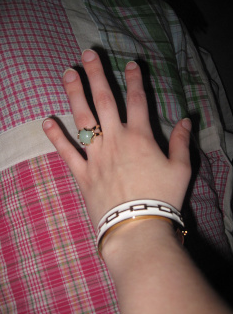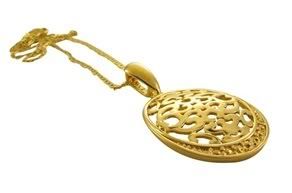 The Pieces are:

Napoli Oval Rosette Pendant
Forli Quartz and Gold Ring
Avila White and Gold Bracelet
First off I tried taking a picture with the necklace on but it didn't do it justice so that's why I put the one of it on the website on here.
Also can I just say how cute these pieces were packaged up? I received them in individually small gift boxes with cute purple ribbons tied up over the boxes. When I opened the box each of them were in little silky purple bags. Very cute.
Now, being that they're three very different pieces of jewelry I'm going to review them separately first off starting with the
Napoli Oval Rosette Pendant
. A brief summary on the Opaleen website states:
"An oval shaped gold pendant featuring a lace inspired design, this necklace is an updated version of an old world original. Gold filligree edges the pendant's lower half creating an interesting contrast of curves. 18k gold plating. Pendant measures 23 mm by 30 mm, chain measures 18"."
I really loved this necklace. It was lightweight so it didn't weigh you down or bug you, it was just the perfect size too. Some necklaces have really obnoxiously large pendants or way too small, this size I felt was perfect. The one issue I had with it was the chain. The style of the chain was great, very comfortable, and looked great with the pendant. I just kind of wish that the chain was a little longer. I feel like a pendant like this should be a longer necklace, or at least I'd prefer it was. They're also really trendy right now the longer necklaces, so I kind of wanted that. But it's not a big deal I plan on finding another longer chain to replace it with because I love this pendant and I'll use this chain for something else. But it also depends on your style this necklace could work with it being this short, I personally would prefer it to big a bit longer though. Overall, I loved it and the look and size of the pendant actually exceeded my expectations on what I thought it was going to be.
Next up is the
Forli Quartz and Gold Ring
. A brief summary on the website states:
"A double banded ring that is off-set and culminates in a rounded piece of green quartz. Four curved prongs complete the setting creating a timeless conversation piece. 18k gold plating. Measures 16 mm."
I loved this ring. I think out of the three it is my favorite and I will use it the most. I have been looking for a ring like this style for quite some time now but they're either too big or too small or just too crappy looking. This ring is perfect. Perfect size, perfect style. I love the band and how it looks like the 2 gold bands wrap around each other. It's so unique and so pretty. I love the color too of the green. It's not a loud, super bright color but it's not an ugly like olive/puke green color. I was actually worried that the stone was going to be too small because 2 reviews on the site complained that they thought the stone was going to be bigger but I don't know why they would want a stone any bigger. It is the perfect size where people will take notice of it but not take notice because it's so big and ugly but because it's such a fantastic ring. It's definitely one of a kind. Love it.
Lastly is the
Avila White and Gold Bracelet
. A brief summary on the website states:
"Subtle gold accents and gorgeous enamel highlight our Avila bracelet in white. Made of creamy white enamel and gold tone chain motifs, pair this bracelet with any or all of the bracelets in our Avila collection for a sleek and stylish addition to any outfit. Bracelet includes hidden hinge opening and can be worn lower or higher depending on taste. The bracelet is 2 5/8" wide and has a circumference of 8 3/8"."
Opaleen actually chose this piece for me because it is one of their more popular ones and has been selling very well. Typically a bracelet like this isn't usually my style but once I received it, I did really like it. This is a great piece to show just how great looking their jewelry is, like this can pass for a very expensive piece of jewelry. On the website reviews people have said how much this looks like a Chanel or Hermes piece and it really does. Except this bracelet costs a mere $24.00! And honestly, this bracelet does not look cheap or too shiney, feels weird, etc. it is wonderful. It fits nicely onto any wrist and doesn't bother you or anything, again another lightweight piece. It is good for dressing up or down. I can see why it is so popular, it is really gorgeous.
Overall I was extremely happy with these beautiful, beautiful pieces from Opaleen. They are reasonably priced but can pass for an expensive piece of jewelry. They're also very unique and lots of their pieces are one of a kind not like copy-cat styles of current trends, they make their own styles and it works because they're all wonderful. Any girl can find a piece on this website that she will love. I also loved how none of these pieces really disappointed me, in fact they all kind of exceeded my expectations. I was surprised by how pretty they were because for $20 something dollars you really can't expect this type of well-made jewelry anymore, which is kind of sad. So it's great that there are rare jewelry websites and stores like Opaleen out there that still have wonderful pieces that don't disappoint that people still can afford to pay for and still look beautiful wearing them. Definitely check this website out. You will NOT be disappointed.
Buy It!
Head on over to
Opaleen's website
and browse their wonderful selection. Because come on, listen to what I said above, I'm not lying they're AWESOME.
Win It!
ONE winner will receive a $50 gift coupon for
Opaleen
!
1. Search through the
Opaleen website
and comment telling me what piece of jewelry you'd buy with your $50 coupon.
Please answer this question or else your comment will not count! You must do this first or future entries will not be counted.
(1 entry)
BONUS ENTRIES
2.
Follow Opaleen on Twitter.
(1 entry)
3.
Become a fan of Opaleen on Facebook.
(1 entry)
4. Subscribe by Email and Confirm that Subscription (1 entry)
5. Follow StarIMPULSE on Blogger. (2 entries!)
6. Follow me on Twitter. (1 entry)
7. Tweet about this giveaway and send me a direct link to that tweet, you can do this once a day. (1 entry per day)
8. Subscribe to my YouTube channel. (1 entry)
9. Add my StarIMPULSE button to your sidebar and send me think link to your blog so I can see it. (1 entry)
10. Add StarIMPULSE to your blogroll (using my URL), with a link back to me! (1 entry)
ONE winner will be chosen on June 9th, 2010 at 10:00pm (EST) and then will be emailed.
Alternate winners will be chosen if winner does not respond after 48 hours. This contest is only open to all US Residents. Thank you and good luck!
Disclaimer-
I was provided a product in exchange for my review.
You can read more about my blog policies in my disclaimer.