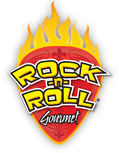 Hey guys! So my next review is for
Rock n Roll Gourmet
. Rock n Roll Gourmet is this awesome natural snack food company with a rock n roll attitude. I was sent a huge box filled with their delicious goodies.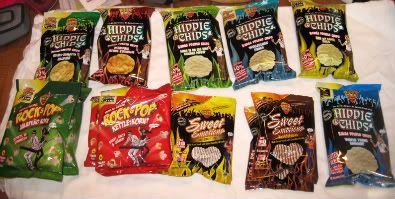 These snacks were sooooo delicious! They're mainly various assortments of chip-styled snacks called Hippie Chips, Rock & Pop, and Sweet Emotions. This is what the website says about each of them:
"Hippie Chips are the best tasting and most unique baked potato chip in the world. Every chip's shape is as individual as you are. They are ultra light and low in fat and calories. With superlative taste and exceptional texture, Hippie Chips will awaken the free spirit in you! Don't Worry, Be Hippie." "Rock & Pop is popped-to-perfection, delicious snack. We use the finest ingredients to bring you this rockin' snack. Let's ROCK!" "Sweet Emotions will satisfy your sweet tooth with guiltless pleasure! The healthy, all natural ingredients in calorie-conscious portions have a flavor for every mood. Savor the taste sensation! Life is Sweet!"
I loved all of these snacks! They were so good from the Rock & Pop Kettlecorn to the White Room Cheddar Hippie Chips. I also loved the names of all of them, especially the names of all the Hippie Chips with references to famous rock and roll staples. They were baked potato chips and came in so many different flavors from Woodstock Ranch to Sea of Love Salt. They're only 120 calories too! And gluten free! I also liked that they didn't taste like most healthy snacks do, you know not flavorful enough. These were crazy flavorful. I loved them all but my favorite was the Woodstock Ranch and the White Room Cheddar, they just tasted sooo good. I tried to savor each chip but both bags were gone in like five minutes. So delicious!
The Rock & Pop was delicious too! It came in two flavors Jalapeno corn and Kettle corn. I wasn't a big fan of the Jalapeno one, it just tasted to weird and too spicy for me for popcorn. But the original Kettle corn?? One of my favorite snacks out of all these snacks. I was nervous to try it too because I'm a huge fan of Kettle corn and surprisingly it tasted like the real thing. It tasted just like the kettle corn I get from Six Flags! So delicious. Just one complaint was that I received two bags and my dad stole one! I wanted to eat them both! Haha.
Lastly, are my favorites, the Sweet Emotions. Sweet Emotion comes in two flavors Cinnamon Joy and Chocolate Passion. They're little baked multigrain snacks shaped like hearts and drizzled with chocolate or white chocolate. I actually liked Cinnamon Joy the most because of that pop of cinnamon. But I loved them both. I have such a huge sweet tooth and these definitely hit the spot. They're only 90 and 105 calories too!
These are great healthy snack foods! Such a great concept too to involve music and musical references to their snacks. They do this for a reason, too, because they give a portion to the proceeds they make to music programs in schools. But they're also great because they're natural, low in fat and calories, no GMO's, kosher, there's no MSG or peanut products either.
They also have Little Wings which are baked buffalo wing chips with bleu cheese or ranch drizzle and barbecue wing chips with honey drizzle and they're adding on a new Sweet Emotions flavor called Berry Bliss which has a berry yogurt drizzle on it.
Definitely check these out because they're so delicious! If you like chips or have a sweet tooth, there's definitely a flavor here you will love!
Buy It!
Head on over to their
website
and shop there or check out amazon, or
click here
and see if they're selling it at a store near you!
Disclaimer-
I was provided a product in exchange for my review.
You can read more about my blog policies in my disclaimer.