Hey guys! So my next review and giveaway is for
Celebriducks
. Which basically are exactly what they sound like. Celebrity-shaped rubber duckies. From Gene Simmons to Jesus to Betty Boop. They even had a special edition Michael Jackson Thriller one which quickly sold out. I received the Shakespeare one.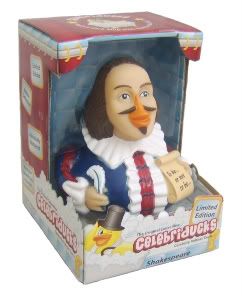 Shakespeare wasn't my first choice. Elwood Blues was, but he was temporarily sold out, so Shakespeare was next in line. What can I say? I'm a theatre geek at heart, especially a Shakespeare one. When I went to the Globe in the fall I even bought a tote bag there that said "All the World's a Stage" yup, geeeek.
But anyway, back to the duck, I thought this concept was so clever and just another addition to feed into my collection of random stuff addiction. Rubber duckies shaped like celebrities? Heck yeah I'll add you to the mix! I loved the Shakespeare one because it's so like obviously Shakespeare, some of them like Mae West or Pinocchio you could kind of tell it was them but more if you were a huge fan, this Shakespeare one he has a scroll that says "To be... or not to be..." is so like obviously stereotypical Shakespeare. Like you will know it's him because of that. I thought it was funny too. All of them and just turning different celebrities into ducks, like Mr. T, it's so funny.
It's just a great collectible and great for big fans of collecting or big fans of the celebrities that were made into ducks. I know Elvis fans will totally go for the Elvis duck.
As the website says:
"CelebriDucks is the original creator of the first ever celebrity rubber ducks of the greatest icons of film, music, athletics, and history. They have produced CelebriDucks for the NBA, Major League Baseball, the NHL, NASCAR, NCAA collegiate mascots and also famous people such as Elvis Presley, Michael Jackson, Marilyn Monroe, Barack Obama, The Wizard of Oz, Alice in Wonderland, James Dean, KISS, James Brown, The Blues Brothers, Mr. T, Shakespeare, and the world's first ever 100% recycled "Green" duck. To date they have created over 200 different CelebriDucks and have pioneered a whole new collectible."
Definitely check these out guys! They're so clever and cute, you'll love them!
Buy It!
Head on over to the Celebriduck's website and browse their selection!
Win It!
ONE winner will receive a Celebriduck of their choice!
1. Go to
Celebriduck's website
and tell me what Celebriduck you'd like.
Please answer this question or else your comment will not count! You must do this first or future entries will not be counted.
(1 entry)
BONUS ENTRIES
2. Subscribe by Email and Confirm that Subscription (1 entry)
3. Follow StarIMPULSE on Blogger. (1 entry)
4. Follow me on Twitter. (1 entry)
5. Tweet about this giveaway and send me a direct link to that tweet, you can do this once a day. (1 entry per day)
6. Subscribe to my YouTube channel. (1 entry)
7. Add my StarIMPULSE button to your sidebar and send me think link to your blog so I can see it. (1 entry)
8. Add StarIMPULSE to your blogroll (using my URL), with a link back to me! (1 entry)
ONE winner will be chosen on July 13th, 2010 at 6:30pm (EST) and then will be emailed.
Alternate winners will be chosen if winner does not respond after 48 hours. This contest is only open to all US residents. Thank you and good luck!
Disclaimer-
I was provided a product in exchange for my review.
You can read more about my blog policies in my disclaimer.
IF YOU DO NOT CORRECTLY ANSWER MY CONTEST QUESTION, YOUR COMMENT WILL BE IMMEDIATELY REJECTED.