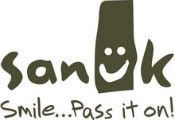 Hey guys so my next review is for
Sanuk
! Sanuk is this amazing footwear company that totally gives off that chill California vibe for the Summer and show's off your fun flair. Oh wait, maybe that's what it's called "Sanuk" which means FUN in Thai. Their name is also their mantra and you can totally get that when you put on a pair of their shoes.
I was super lucky enough to receive THREE fantastic pairs of their latest hot sandal -- the tube flop! And their Woodstock flip flops.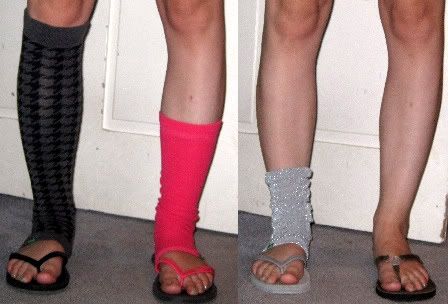 (Sorry for the crappy photo quality, I edited this on paint because I am ghettooo.)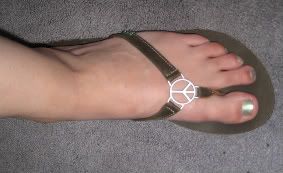 Let's talk about the Woodstock flops first, keep you on edge wondering about the tube flop for a moment, but these flip flops are super cute. I'm a sucker for peace signs so once I saw these I loved them. My feet are picky though which sandals and flats and basically any type of shoe except sneakers and boots they seem to be okay with those. So naturally I was worried about not only these but also their tube flops. They're fantastic, but will they hurt? Especially because the peace sign is made of metal. But fear not! These flip flops are about as comfortable as a peace loving flip flop should be. One random thing I loved about it was that the strap between your big and 2nd biggest toe is made of a vegan leather material and not a clothy one. Weird note but my feet seem to hate the cloth straps and get blisters in that uncomfortable place between your toes asap, but with leathery material like this they're okay with it. And my feet were very okay with these flip flops. I only have one other pair of flip flops that my feet love and they're about ohhh 7 years old? So it's nice to have a new favorite flip flop that yes I do wear everywhere now. I love them!
Now, what you've been waiting for, the Tube Flops. I know a few of you will hate the way you look and a few will love them. When I received them I wasn't sure if I liked them or not. Again my feet are so picky and typically don't like rubbery flip flops like these, but this material is different. It's like a squishy and soft and super duper comfy rubbery. I took a crazy 40 minute walk there and back...so I guess 80 minute walk, wearing these babies and I almost died -- of shock! No blisters! Anywhere! Not even remote pain or rubbing! I couldn't believe how awesome they were. I received the houndstooth, hot pink, and silver and I really liked how each of them were made of different fabrics. The houndstooth is thicker, not great for summer but will be for the fall, especially because of it's dark grey and black coloring. The silver is a little lighter, the fabric has the shiney pieces in it that kind of make it feel like it's going to be itchy on your leg but actually isn't, they're a happy medium not too heavy not too light. The hot pink is made of this super cool light mesh fabric that's great for this weather and for the summer and spring in general because of it's popping color. I loved them all. But with this 85 degree and higher weather (plus the humidity making it like 95+) when I wore the pink and silver ones it did make my feet sweat a bit, so I'm saving them for cooler weather or maybe when I'm by water like my lakehouse or down the shore. They're great though, I like scrunching them down a bit so they're not completely stretched up but the socks are still there and super cool. I feel like the streched up look will look good with a skirt or something though so I'm waiting to try that out. Also the houndstooth as well as the other colors I feel like will look super awesome stretched out or scrunched down with leggings on. I just am super excited to play around with these. I mean I did get some looks when I wore them and one girl said she wouldn't wear them and they were like "crocks with socks" but she's a plain jane kinda girl, and you know everyone has their own style, I did get a lot of positive feedback too! :) You just know how to wear these, they might look cheesy if you wear them with the wrong outfit, it's all about mixing and matching to make them look good. And when you wear them right they do look good. For instance wearing the hot pink ones with solid outfits like a black or white outfit it really makes it pop. I was nervous about them at first, but once I got them and saw them, I fell in love. The one thing that wasn't 100% awesome was that when I walk with them the socks kind of push your feet back little bit so you might have to kick/push your feet up towards the front again...if that makes sense, but still it was nothing major. What was major was how COMFORTABLE they were! Definitely check them out!
Or just check out the entire Sanuk brand they have SO many cool sandals and footwear, for guys too! I was so suprised that all of these shoes were so comfortable and made extremely well. They're not crappy, they're legit. That's why $30 may seem steep for some Tube Flops but think about it, where else are you going to get shoes as cool as these AND ones that will last you as long as these? Definitely worth it. But it is all about comfort to me, comfort but still stylish.
Buy It!
Head on over to
Sanuk's website
and browse their crazy awesome selection. You won't be disappointed! Or check out the
Dealer Locator
to see if there's a store near you selling Sanuk!
Disclaimer-
I was provided a product in exchange for my review.
You can read more about my blog policies in my disclaimer.