You guys know I'm a big fan of tea, I've reviewed it and had giveaways a bunch of times, I just can't get enough! Well, I'm here to talk to you about another tea...
TEAGSCHWENDNER, Germany's largest and most popular tea retailer, has chosen NEW YORK CITY'S ROCKEFELLER CENTER as the site to unveil its U.S. flagship corporate store on Friday, July 16th! Second to water as the World's most preferred beverage, tea is an ever-growing part of American society.
We all know that tea is the healthier alternative to coffee seeing as it contains two compounds which are known to have positive affects on health: L-Theanine and antioxidants. L-Theanine, an amino acid, has shown to induce a relaxed state of concentration and reduce stress. The antioxidants found in tea have been tested extensively and are known to improve overall health. So why not spread the word!
Just click the image below to "Like" TeaGschwendner on Facebook so you can get a coupon for some TeaGschwendner loose leaf teas. The coupon can also be used online for those who do not have a location nearby.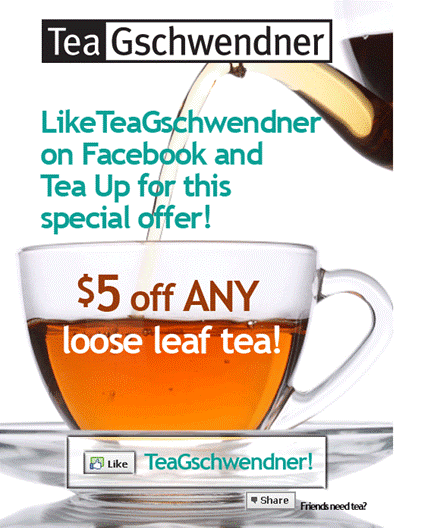 Definitely check it out guys, especially if you're tea lovers! Check out their website
here
!