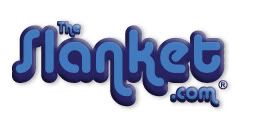 Hey guys! So my next review and giveaway is for
The Slanket
. The Slanket is a blanket with sleeves, hence the name. It's made of a realllyy comfy fleece material (technically it's 100% Polyester Microfibers, but still) and is just so soft and...I am in love with it.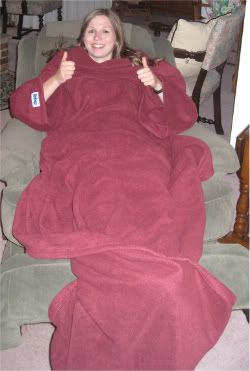 As the website says:
"The Slanket is a gigantic fleece blanket with sleeves. A very soft to the touch, lightweight, but warm fleece blanket with large, loose sleeves designed so you don't feel like you're wearing the blanket, simply wrapped up in its wonder. The Slanket is designed to keep your entire body covered and cozy while you still retain the use of your hands. Simplistic and practical, its innovativeness opens up possibilities, but still can replace any normal blanket. Size: 60"W x 95"L."
Granted it is the summer time but the AC is blasting and I get cold with that on. So I used it the other night while watching television in the living room and PASSED OUT. It is just so warm and cozy. I love that it's oversized too because a lot of trouble I have with blankets is that they're too short and you have to choose between putting the blanket over your feet or your hands. But this slanket covers everyyyything.
I know you're probably thinking this is the silliest thing ever but it is such an awesome idea. Mainly because if you're drinking something or channel surfing but still want to keep warm you still have to take your arm out from under the blanket and grab the remote or cup. This sleeves are oversized so you can hide your arms in there but you can stretch out your arm and grab the object while still having the rest of your arm nice and warm in the thick sleeve.
It's one of those things you wear to look comfortable to not be stylish. Think of your most comfortable sweat pants, of course they're not the prettiest looking pants and I'm sure you don't wear them out or if you do it's to grab a movie at Blockbuster or grab something quick at the store. But you still wear them at home because they're comfortable. Much like this Slanket, you put it on because it's sooo comfortable. Who cares how ridiculous you look? You're at home.
You guys will definitely love this. I sure as heck did. It's just sooo comfortable, there is nothing else I can say about it, it's great on a cold winter night or a hot summer night with the AC blasting and pretty much freezing you like a cold winter night. Definitely check them out.
Buy It!
Head on over to
The Slanket's website
and browse the selection, they've got a bunch of different styles and everything.
Win It!
ONE winner will receive their own Slanket!
Win It! ONE winner will receive this Chat collection bundle for themselves (or for their daughter)!
1. Search through
TheSlanket.com
and comment telling me what color you'd like.
Please answer this question or else your comment will not count! You must do this first or future entries will not be counted.
(1 entry)
BONUS ENTRIES
2. Subscribe by Email and Confirm that Subscription (1 entry)
3. Follow StarIMPULSE on Blogger. (2 entries!)
4. Follow me on Twitter. (1 entry)
5. Tweet about this giveaway and send me a direct link to that tweet, you can do this once a day. (1 entry per day)
6. Subscribe to my YouTube channel. (1 entry)
7. Add my StarIMPULSE button to your sidebar and send me think link to your blog so I can see it. (1 entry)
8. Add StarIMPULSE to your blogroll (using my URL), with a link back to me! (1 entry)
ONE winner will be chosen on June 21sth, 2010 at 5:00pm (EST) and then will be emailed.
Alternate winners will be chosen if winner does not respond after 48 hours. This contest is only open to all US and Canadian Residents. Thank you and good luck!
Disclaimer-
I was provided a product in exchange for my review.
You can read more about my blog policies in my disclaimer.