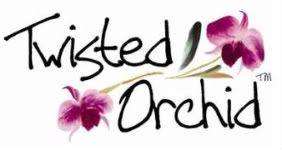 Hey guys! So my next review and giveaway is for
Twisted Orchid's Mad By Design bags
. As the website says:
"Twisted Orchid is a premium shopping destination for stylishly chic purses & women's handbags. From the pages of People StyleWatch to Lucky, Elle and Oprah, trendspotters & fashion provocateurs alike are buzzing about our incredible selection of totes, clutches, shell & horn handbags, wallets, animal friendly leather handbags and Eco friendly bamboo handbags & purses."
I received the
Caviar Gypsy
purse.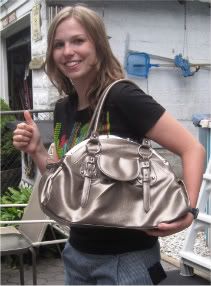 This bag was super cool, I especially I love the sized of it and was kind of surprised by how large it was. On the website it looks a lot smaller. Yes it does say the sizes on it, but I don't measure or even think of measuring bags in the air with a ruler to see how big it will be I just look at it, like it, and pick it. That's how I roll. But it's great for traveling with, you can use it as your personal item on planes and put alllllll your stuff in it. Maybe not your laptop...but everything else!
I like the style of the bag except for 2 things: 1. The color is a kind of weird light copper/bronze that I'm not a big fan of, I originally asked for the Nomad Gypsy which is an almost black looking purse, but I guess they ran out or didn't have it available which I understand. It just looks a bit different from the site, the site makes it more silvery but in person it's bronzey. But I mean you guys might like it, I'm just more of a fan of darker purses for some reason. I don't really like light colors. 2. The other thing I didn't like was the weird metal thing on the edges of the top of the purse. Actually I take that back, it is not that I don't like, it's just I'm not sure how I feel about it. I think it looks cool but at the same time I think it's a bit much, I'm stuck in the middle with my opinion of it.
But other than that I did like the purse, like I said above, the size is awesome. I loveeee all the pockets. I'm a big fan of pockets. It has a tiny zipper in the back and that pocket in the front. It also had 2 big zipper sections which I love. It also has a few more pockets and zippers in the big zipper pockets. Even though I didn't like the color of the bag so much I did like the fact that it wasn't super shiny. This is animal friendly leather and sometimes with animal friendly leather the bag can be super shiny and cheapish looking but this had a nice look to it. It was metallicy but not shiny. It also felt nice too, again not a cheap feeling but very smooth and nice.
Overall I really did like the bag and like the fact that it's animal friendly leather and still looks stylish and not cheap. Definitely check out their website! They have everything from huge bags to small clutches to even purses that look like flowers! Cute!
Buy It!
Head on over to
Twisted Orchid's website
and browse their awesome selection, they definitely have something for everyone! Also the Mad by Design bags are free shipping!
Win It!
ONE winner will receive a bag of their choice that values up to $75!
1. Search through the
Twisted Orchid website
and comment telling me what Mad by Design bag you'd like to buy next.
Please answer this question or else your comment will not count! You must do this first or future entries will not be counted.
(1 entry)
BONUS ENTRIES
2.
Follow Twisted Orchid on Twitter.
(1 entry)
3.
Become a fan of Twisted Orchid on Facebook.
(1 entry)
4. Subscribe by Email and Confirm that Subscription (1 entry)
5. Follow StarIMPULSE on Blogger. (2 entries!)
6. Follow me on Twitter. (1 entry)
7. Tweet about this giveaway and send me a direct link to that tweet, you can do this once a day. (1 entry per day)
8. Subscribe to my YouTube channel. (1 entry)
9. Add my StarIMPULSE button to your sidebar and send me think link to your blog so I can see it. (1 entry)
10. Add StarIMPULSE to your blogroll (using my URL), with a link back to me! (1 entry)
ONE winner will be chosen on June 21st, 2010 at 7:00pm (EST) and then will be emailed.
Alternate winners will be chosen if winner does not respond after 48 hours. This contest is only open to all US residents. Thank you and good luck!
Disclaimer-
I was provided a product in exchange for my review.
You can read more about my blog policies in my disclaimer.