Hey guys so my next review is for
Snikiddy
. Snikiddy is this great brand of great tasting, family-friendly snack foods made from simple, wholesome, and real ingredients. I received a coupon and got to pick the snack I wanted.
What's great is that these are easy to find I was shopping at my local supermarket, Shop Rite, and they were there. They only had the puffs though and not the fries. So I picked the Mac and Cheese puffs.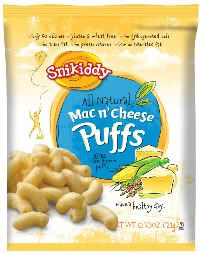 They have a bunch of flavors too. They have fries and puffs. For fries they have original, cheddar cheese, classic ketchup, and parmesan garlic fries. For puff they have mac and cheese, pizza, nacho cheese, and grilled cheese. Yumm.
These are so addictive and delicious. They're baked corn puffs combined with mild white cheddar cheese. They're like cheese doodles but not super cheesy and they don't have lot of those annoying like shavings that stick to your fingers when you're chowing down. I love puff snacks but I love when they're the healthy versions, much like this one! A great thing about these is that they're the healthy alternative to the cheese doodles. They're all natural, made with real cheese, low in saturated fat, 30% less fat than any other leading brands, 20% fewer calories than any other leading brands, gluten free, wheat free, and no trans fat, hmos, or preservatives.
They really are so good and delicious! You guys definitely need to try them out! They're at all Whole Foods stores among a bunch of other stores near you. Check out
here
. Though also just check out your local supermarkets even though they're not listed because Shop Rite wasn't listed and they had it there. It's worth a shot just to check when you're shopping.
Buy It!
You can get $1 off coupon for any Snikiddy snack so definitely check it out on their
website
! Then go to your store, and buy a bag because they're delicious!
Win It!
Become a fan of
Snikiddy on Facebook
, fill out a quick survey, and get a free snack pack!