Hey guys! So my next review is for the
Xpad
. The Xpad is a portable
non-slip laptop pad that cools the laptop computer while protecting the user from laptop heat. It features an elegant lightweight design, thin profile, and smart non-slip interface.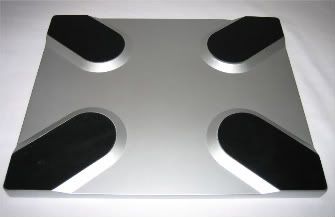 I use my laptop a lot, especially since I've started this blog. I'm on it at least once a day for at least two or more hours and, you guys know laptops, they get super hot. I tend to like having the AC off (unless it's insanely hot out) until I go to bed, but sometimes this laptop makes me feel so hot that I end up using my AC. Mainly because I like to sit it on my lap. So once I heard about this Xpad I had to check it out. Believe me, I was skeptical at first, it seemed too simple, but it really does work!
The Xpad is super simple all you have to do is place it underneath you laptop and there you go. It doesn't stick or doesn't have any special fans. It's less than an inch thick and is just plastic and has a rubber X-shaped pads on top that kind of rise higher than everything else so that there's a bit of space between some pieces of the Xpad and the actual laptop to give the laptop some air. Also underneath it has a nice fabric so your legs or where ever you keep your laptop on when you're using it don't feel the heat at all. All you do is turn your laptop on and place it on the Xpad and the magic just happens.
I used this immediately since I received it and have been using it continuously. Every so often I will lift my laptop up and just feel the bottom of it as well as the top of the Xpad and it is remarkably so much cooler than it usually is. This simple system works incredibly well and I'm going to continue using it all the time now.
It is also very lightweight and skinny, it's not even like it gives the laptop a lot of air it's about a 3rd of an inch of space but that space and the rubber pads just seem to work and cool it down. It only weighs a pound. Also the rubber helps it grip to the laptop so while it doesn't stick it doesn't slip or move when you try to pick both up at the same time.
They currently sell two sizes one that will fit any 17" inch laptop or one that will fit any 15" laptop. My laptop is about 13" and I received the 15" and it works fine. So don't be worried if you think your laptop is too small I'm sure it will be just fine. Xpads are universal fit by design - so the Xpad Slim any laptop up to 17" and the original Xpad that you have will accomodate any laptop up to 15" screen size.
Buy It!
Head on over to
Xpad4laptop.com
and check them out! They're only $24.95 each which you may think is a lot but it's such a unique one of a kind product that works, it is well worth it. Plus! They're having a special Father's Day Sale! Buy 2 or more and get additional 20% off! Just put in the coupon code Xpad4Laptop and you're set!