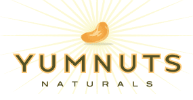 Hey guys! So my next review is for
Yumnuts Naturals
. Yumnuts Naturals are deliciously awesome cashews that have added flavors but they're not artificial flavors or oils like most nuts have nowadays. These are healthy but still very delicious flavored cashews. I received the Cajun and Toasted Coconut in the mail.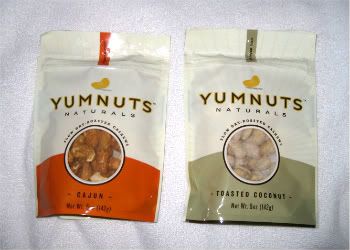 This is what they say on their website:
"Our philosophy is simple: nuts are nature's perfect snack. Nuts contain the protein, smart fats, like oleic acid, and essential minerals to help us perform at our best. We use the best natural ingredients to create a product with a simple ingredient statement that is both healthy and yummy. We start with premium jumbo cashews and use a special flavoring technique to add a delicate dose of delicious seasonings that ensures that every Yumnut, in every batch is truly yum. Most flavored nuts are roasted in oils or coated in suspicious ingredients and heavy batters. We don't need artificial colors, flavors or sweeteners to make our nuts taste great. Nor do we try to change the taste of our cashews by roasting them in peanut oil. We think that's just nuts."
Oh my god, these nuts are so delicious! It was so hard not to eat all of these in one sitting because seriously, seriously, they are that amazing. I didn't request which flavors to send me but I am so happy that I received the Toasted Coconut because I love anything coconut and these are like my favorite nuts ever now. The Cajun ones are pretty good too but I like sweet stuff more than spicy stuff so if I had to choose, Toasted Coconut would be the reigning champion for me. Though if you're a big spicy fan you will love the Cajun ones. I like that they're not insanely spicy but just enough where you feel the heat but continue grabbing and eating more. They also come in other delicious flavors like chocolate, honey, chili lime, and sea salt. Yummm.
I just loved these nuts and while I do love nuts in general, I have a super sweet tooth so I love that these come in sweet flavors (like the toasted coconut) so they can be a sweet yet still healthy snack to munch on. A great healthy alternative to those honey roasted peanuts out there.
Some more healthy facts about these delicious cashews are they they're gluten free, trans fat free, no preservatives, no artificial flavors or sweeteners and no cholesterol! They're so healthy and natural that you can actually read their short list of ingredients and understand what each one is!
If you are a cashew lover definitely check these out, you will not be disappointed!
Buy It!
Head on over to the
Yumnuts Naturals Shop
where you can order them there. Yumnuts Naturals was nice enough to give us all the coupon code
STAR25
so you guys can receive a 25% discount! But, hurry! The coupon code expires on 7/31/10.
Disclaimer-
I was provided a product in exchange for my review.
You can read more about my blog policies in my disclaimer.