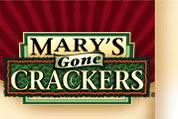 Hey guys! So my next review is for
Mary's Gone Crackers
. Mary's Gone Crackers is this great snack company that has cookies, crumbs, crackers, and sticks. I got to try their line of cookies, yum!

The flavors of the cookies were:
Chocolate Chip
N'Oatmeal Raisin
Ginger Snaps
As the website says:
"Mary's Gone Crackers "love™ Cookies" are a unique line of cookies available in deliciously traditional flavors, reinvented with revolutionary ingredients. Like all of Mary's products, the love Cookies are made without gluten, wheat, dairy, or eggs. Perfect with a cup of tea, a glass of milk, or straight out of the box, love Cookies are a tasty treat that are also certified organic and kosher. Love Cookies are made with low glycemic sweeteners, zero trans-fats, and contain high omega-3 chia seeds. Like all of Mary's Gone Crackers' delicious snacks, love Cookies are made with a blend of hearty, healthful ingredients and come in three yummy flavors, including Chocolate Chip, "N'Oatmeal™" Raisin (no oats!) and Ginger Snaps."
And yes, I was skeptical about these just like I was about the previous gluten free cookies, Dr. Lucy's, I tried earlier this week. But after tasting the Dr. Lucy's cookies I was more optimistic. And these were just as delicious!
The chocolate chip and n'oatmeal raisin cookies were super soft and tasted just like regular chocolate chip cookies and n'oatmeal raisins. I thought it was cute that the N'oatmeal raisins were called n'oatmeal because it didn't havve any oats. My favorite though was the ginger snaps. I loveee real ginger snaps and they tasted just like regular ones. But the chocolate chip and n'oatmeal were pretty good too.
But these cookies are also healthy for you too! They're organic, kosher, no GMO's, vegan, dairy free, allergy friendly, no hydrogenated oils, no trans fats, and like I said above wheat and gluten free. Yay and yum for eating healthy!
The one issue I had with the cookies was that they were bite-sized. I'm not a big fan of the bite-sized, the bigger the better for me you know? But flavor-wise and everything else these cookies were delicious!
Buy It!
Head on over to
Mary's Gone Crackers' website
and browse their selection. Or check out the
Store Locator
on the site to see if they're selling Mary's Gone Crackers near you. They sell them at a bunch of stores from Bed, Bath, and Beyond to Stop and Shop!