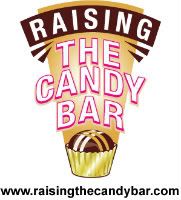 Hey guys so my next review is for
Raising the Candy Bar
. I got a chance to review one of their amaaaazing Taffy Apples. I received their Deluxe Chocolate Chip and Coconut Taffy Apple and YUMMMMMMMMMMM.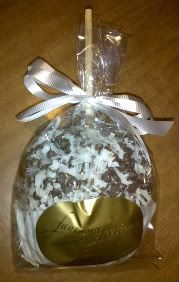 God, this was so delicious. I'm not going to lie it took me a while to eat, it sat in my fridge for a few days because I was so intimidated by it. This baby is HUUUGE. As the website says:
"This apple starts out with caramel and then is covered in chocolate, we then hand pack the apples with chocolate chips and shredded coconut."
I am a huge caramel apple fan, specifically, when I go to carnivals my caramel apple of choice was the one with coconut so once I saw this baby with coconut, caramel, AND chocolate I realized right then and there, sitting at my computer and gazing at this caramel apple picture, this was going to be my favorite caramel apple ever. And you know what? It definitely lived up to that expectation and definitely was.
Also this apple is kosher and lactose free, so yummy!
They have so many other Taffy Apples too, ones with marshmallows, candy corn, and much more! If you're a caramel apple fan, there will definitely be a flavor here that you will be DYING to try and I'm pretty sure it won't disappoint. Again, I'm a huge coconut caramel apple fan and I love chocolate so adding the chocolate into the mix made this Taffy apple taste like heaven.
This website definitely rocks too, yeah you're going to be starving and have a sugar craving after, but that means the website is doing its job right? But they have much more than just Taffy Apples, they have truffles, chocolate covered marshmallows, gummies, and sooo much more. This website is the candy lover's dream website. They even have specific gluten free candy, kosher candy, organic candy, sugar free candy, vegan candy and so much more. They definitely try to make everyone happy which is great because some people have a difficult time finding good candy, but this candy is delicious. It's high quality candy and you can tell once you bite into it.
Buy It!
Head on over to
Raising the Candy Bar's website
and browse their huuuge selection. Use the promo code
star impulse
and you will get 15% off your order! You will definitely not be disappointed!