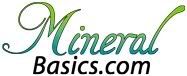 Hey guys! So my next review and giveaway is for
Mineral Basics
.
Mineral Basics is this cosmetic company that has all natural cosmetics for people with all skin types and tones across the globe. I received 15 samples from them, mostly of eyeshadows.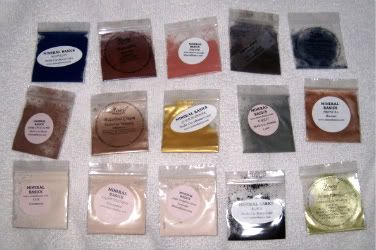 The samples I received were:
Eyeshadows-
Hidden Creatures Fantasy Eyeshadow
Feline-Familiar Fantasy Eyeshadow
Black Multi-Use Matte
Forest Multi-Use Shimmer
Storm Multi-Use Shimmer
Nectar Satin Multi-Use
Gold Shimmer Multi-Use Shimmer
Hazelnut Cream Multi-Use Shimmer
Muscadine Multi-Use Shimmer
Midnight Multi-Use Matte
Dark Chocolate Multi-Use Matte
Bronzer-
Tropical Bronzer
Foundation-
Fair Foundation
Light Neutral Foundation

Concealer-
Light Complete Cover Concealer
I asked them at Mineral Basics to pick me out the samples because their selection is HUGE and what I received I really liked, especially the eyeshadow. It is super easy to apply and comes off with some make-up remover of a good face wash, you know, just like any other makeup.
I received them all in small little baggies but enough for more than one application. Some of the fanicer eyeshadows like the Fantasy Eyeshadows didn't seem to have as much as the others while the foundation seemed to have more than the eyeshadows. But they all had enough, they didn't jip you or anything. I mean come on, they gave me FIFTEEN samples.
It was really hard to pick just one favorite, I don't think I can, to be honest. But I did love the Hidden Creatures Fantasy Eyeshadow and Storm Multi-Use Shimmer. Not for any reason other than I like the smokyish look for the Storm and for the Hidden Creatures I liked how it wasn't super dark blue, but dark enough and still shimmery.
Overall, Mineral Basics was great. They have soooo many colors, you will definitely find more than just one color of your liking. Also, you can buy some samples in the baggies so you can check out the colors with out spending too much money.
Buy It!
Head on over to the
Mineral Basics website
and browse their enormouse selection. With so many colors and types of makeup to choose from you will definitely not be disappointed!