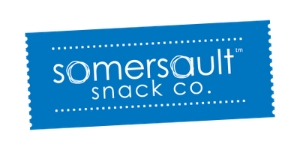 Hey guys! So my next review and giveaway is for
Somersault Snacks
! Somersault Snacks are all natural and scrumptious snacks. They have the perfect amount of protein, fiber, and balanced nutrition that will nourish and delight you on the trail, in the car, or even at the desk. I received one large bag of each flavor as well as travel sized bag of every flavor but the chez cocoa.
Flavors I received were:
Santa Fe Salsa
S.S. Sea Salt
Chez Cocoa
Salty Pepper
I'm not going to lie, I was a bit skeptical of these snacks. A friend of mine tried them and said they were weird, but I tried them and fell in love. Well not in complete love, I didn't like the Salty Pepper flavor that much. Maybe because I hate pepper, but the rest of the flavors I looooved. Specifically the S.S. Sea Salt, this could be because it was my first bag I tried and I was so surprised and happy they tasted so delicious it was hard to compare that first bag to the others. But I did like the Chez Chocolate too for a sweet-tooth snack, a cool flavor to add into the mix of the other flavors. The Sante Fe Salsa was good too because it wasn't super spicy or anything but just enough for you to enjoy it.
It's hard to explain what these snacks are though, they're not chips, they're not pretzels, but if I had to put them in a snack category I'd put them in both of those. They're made of toasted grains, sunflower seeds, sesame seeds and a sprinkle of spices to form a little circular nugget. They're delicious, is all I can say, if you're a seed person that is. My one friend that tried this and thought they were weird wasn't a big sunflower seed fan so that could explain why she wasn't really into these.
Somersaults are healthy too! They're a well-balanced, nutritious and delicious snack for the whole family. Somersaults contain more protein and less fat than an almond, less sugar and lower carbohydrates than a typical energy bar and are a good source of fiber. They're also vegetarian! Yum!
All in all these snacks were just so good and delicious! They're not your average snack either, they're one of a kind which is super cool. Just one con was that I couldn't stop eating them, they're just so addicting! I had the entire travel sized bag of the S.S. Sea Salt gone in one sitting the first time I tried them!
Definitely check these out guys, they're a twist on your average snack but still healthy and still delicious!
Buy It!
Head on over to
Somersault Snacks' Website
and buy them there! Or check out their
Store Locator
to see if a store near you is selling them!
Win It!
ONE winner will receive a package of all the Somersault Snacks in both sizes -- a $25 value! Awesome!
1. Go to
Somersault Snack's website
and tell me what snack you'd like to try the most.
Please answer this question or else your comment will not count! You must do this first or future entries will not be counted.
(1 entry)
BONUS ENTRIES
2.
Become a fan of Somersault Snacks on Facebook.
(1 entry)
3. Follow starIMPULSE on blogger. (2 entries!)
4. Subscribe by Email and Confirm that Subscription (1 entry)
5. Follow me on Twitter. (1 entry)
6. Tweet about this giveaway and send me a direct link to that tweet, you can do this once a day. (1 entry per day)
7. Subscribe to my YouTube channel. (1 entry)
8. Add my StarIMPULSE button to your sidebar and send me think link to your blog so I can see it. (1 entry)
9. Add StarIMPULSE to your blogroll (using my URL), with a link back to me! (1 entry)
ONE winner will be chosen on August 2, 2010 at 5:00pm (EST) and then will be emailed.
Alternate winners will be chosen if winner does not respond after 48 hours. This contest is only open to all US Residents. Thank you and good luck!
Disclaimer-
I was provided a product in exchange for my review.
You can read more about my blog policies in my disclaimer.