Hey guys! My next review is for
Safe T pet
. As the website says:
"SafeTpet® has been in existence since 1996, and began in a small office in our home. We specialize in
personalized pet products, personalized dog collars, supplies, and other personalized items as well."
I received a collar for my cat, Snaps in green.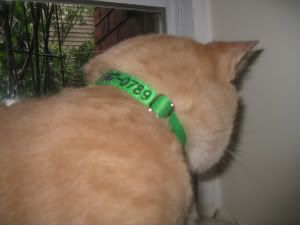 Yup, he is an orange cat and I got a green collar, I was going for the carrot look, haha. Sorry for the crap picture. I tried to take it head on of my cat, but he is such a fat cat with no neck you can't even see the collar when he's lying down looking at you, haha. Basically, if you've seen Shrek 4, he looks exactly like the fat Puss in Boots, haha.
Personalized Collars for Cats have been responsible for many happy reunions between lost cats and their owners. These 1/2" wide collars are "Break Away" and fit necks 8" to 12". You can choose from an array of 8 different exciting colors.
My cat is a pain in the ass with collars, not because he doesn't like wearing them, but because he is an outdoor cat and always loses them. So for the longest time, up until I received this collar actually, we just had him run around with no collar just because we were pretty much wasting money on a collar that wouldn't last even a month. But for now, Snaps has been wearing his collar for about a week or so and it's staying on there! But honestly, it has only been a week so who knows with him.
But Safe T Pet has more than just cat collars, they have dog ones too, leashes, harnesses, and even no bark collars. Pretty cool, definitely check out this website if you have a pet that needs a nice new collar or leash! :)
Buy It!
Head on over to
Safe T Pet's website
and browse the selection!