Hey everyone, so my next review is for
Alphabet Photography
. Alphabet Photography is this fantastic process of photographing images that look like letters of the alphabet and taking those letters to create really words that are basically works of art. I received the "Home" frame from their Inspirational collection.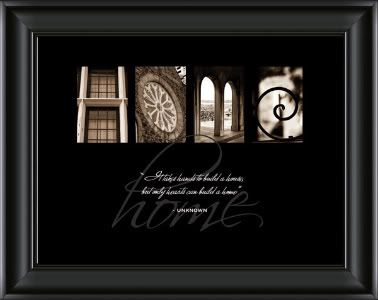 Here's a little background how this company was created:
"Entrepreneur Jennifer Blakeley spent three years traveling across North America with one goal in mind - to collect photographs of objects and scenery that resemble letters of the English alphabet. Once Blakeley had photographed several variations from A to Z, she returned home from her travels and developed the photos in sepia tone and imagined the possibility of customizing the photographs to spell names and words that were special to each individual customer, otherwise known as Alphabet Photography. Blakeley's travels were inspired by a children's book called "Alphabet City."
I thought this was a very fantastic and beautiful concept. I also liked that each frame has the word but also a famous quote about the word underneath. For instance, the "Home" one I received said:
'It takes hands to build a house, but only hearts can build a home' - Unknown
I feel the piece is fantastic for spicing up your living or dining room or giving as a gift. If you're ever stumped to give a gift to someone, this is a very personable piece to give to a family member or friend. For instance they even have ones that say "Mother" and "Family" so you can give them to someone close. You can even customize them to say something like your own last name or a different word. You can also create calendars or posters too.
I also loved the fact that it was made really, really well. It's actually a black canvas and nice size, sturdy frame. The print overally is great qualilty, nice clear and the black really sets off the beauitful sepia tone of the photos.
Overall, this is a lovely piece and just great to have for your home or give as a wonderful gift. Well made, and totally worth it. Definitely check them out.
Buy It!
Head on over to
Alphabet Photography's website
Alphabet® Photography's pre-framed inspirational words are also now available in several home and gift stores in Canada and the USA as well as Sears Canada Online, Green Earth, Meijer Department Stores, Home Sense, Crackerbarrel, Target, Bed Bath and Beyond and other major retail chains.
Disclaimer-
I was provided a product in exchange for my review.
You can read more about my blog policies in my disclaimer.