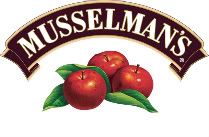 Hey guys! So my next review is for
Musselman's applesauce
! You may recall my previous review of their Healthy Picks flavors, and you can find that review over
here
if you want to check it out again.
I was lucky enough to be contacted by them again to review their newest flavors: Heathy Pick's Granny Smith Apple and Totally Fruit Mixed Berry. Of course, being that I was a huge fan of their previous flavors, and still buy that bangin' Pomegranate Blueberry every so often, I signed right up!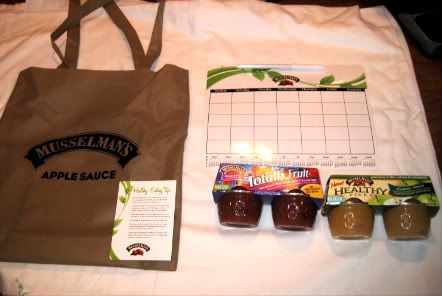 I loved the presentation of the snacks, they came in a Musselman's tote, a weekly calendar that you can write on and hang on your fridge, and a little card for some Healthy Eating Tips. Some of the tips included: Instead of eating 3 big meals, try 5 small meals; Put healthy fruits and food at eye level in your fridge, etc. I thought it was pretty handy.
Here's some background on both their Healthy Picks and Totally Fruits line:
"Our Healthy Picks apple sauce line is designed specifically for women with active, healthy lifestyles, while Totally Fruit offers a scrumptiously sweet taste without any high fructose corn syrup (naturally sweetened with fruit juice). Whether you're just getting back from the gym or simply in need of an afternoon snack, treat yourself to a quick snack that won't leave you feeling guilty."
Well, these flavors definitely did not disappoint. But I wasn't the only fan in the household of these babies, I literally had to hide one of the Mixed Berry one so it wouldn't be eaten by my brother. My brother is a huge applesauce fan, why he had to attack just the Mixed Berry one first instead of the Granny Smith Apple is beyond me. Maybe because he's not used to flavored applesauce (I hid the last batch of Musselman's before, hahaha). But either way he loved it. I did too.
It's hard to pick a favorite out of both of these, in fact I don't think I can. Both are so delicious and a great healthy snack. The Mixed Berry is only 90 calories, while the Granny Smith is only 70! The Heathly Picks line is great because it provides a great source of fiber and calcium, while the Totally Fruits contain NO high fructose corn syrup, artificial colors or flavors.
Definitely check these out, they're so delicious and totally worth it, especially if your an applesauce fan. :)
Buy It!
I saw these at my local Shop Rite, so I'm sure they're at a local supermarket near you! If you're unsure though check out the
Store Locator
.
Disclaimer-
I was provided a product in exchange for my review.
You can read more about my blog policies in my disclaimer.