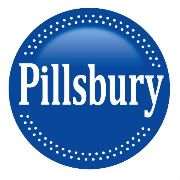 Hey everyone! So my next review and giveaway is for
Pillsbury
's latest addition to their delicious family: Their Sweet Moments Bite-Size and Molten Lava Brownies. I received a yummy prize pack to review thank to My Blog Spark. The not only includied a coupon for me to pick out which Sweet Moments goodie I want but also chocolate bath salt, milk chocolate body lotion, mint chocolate foot scrub, cocoa chocolate shower gel, and a loofah, all nicely packaged in cute little boxes. Let me tell you, if I didn't love chocolate so much this would've made an excellent gift, but I HAD to try it (plus I was running low on body lotion so I was like, SCORE!)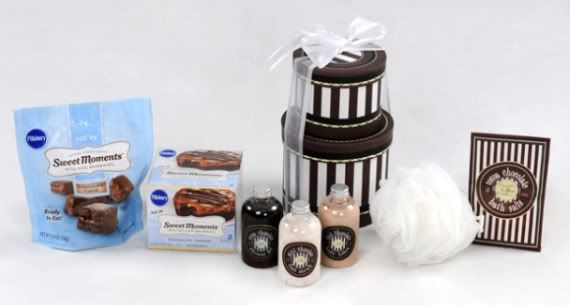 These lotions were great, the shower gel didn't really smell that strong which was kind of disappointing but the foot scrub and body lotion totally made up for it. They smelled sooo good I almost wanted to eat it. And I'm a big fan of loofahs so that's already a winner, haha. But the shower gel didn't dry my skin out or anything and the lotion made my skin feel super soft.
As for the Sweet Moments I picked up the Bite Size Brownies, mainly because I've had Molten Lava snacks before but honestly, I don't think I've ever had Bize Size Brownies. Plus there were less Bize Size Brownies at the store than the Molten Lava Brownies, so I wanted to try the more popular one, haha. Both come in two flavors: caramel or fudge. Unfortunately for me, there weren't any fudge Bite Size Brownies so I had to pick the caramel, not that I don't like caramel! I just like fudge better, haha.
These bite size brownies were delicious! One problem is once you start eating them you might not be able to stop, haha. One serving is three pieces and that's 180 calories, I believe there's about 12 in the bag so you better learn some portions control before, haha. No but seriously these were delicious, just enough sweetness after a meal or for a little snack. What I also liked was they they were brownies but also covered with a chocolate coating.
Overall the Sweet Moments Brownie Bites were so good and I definitely plan on eating them again in the future. The Bite-Size Brownies, which are layered with either rich caramel or fudge and chocolaty coating, are just the right size to grab and go for a quick pick-me-up. They´re ready to eat, so are ready right when the craving strikes - no preparation necessary!
Definitely check these out, especially if you have a sweet tooth like me!
Buy It!
I picked these up at my local Stop and Shop so definitely check out your local grocery store, they're next to the refridgerated dough.
Win It!
ONE winner will receive the Pillsbury Sweet Moments Prize Pack!
1. You must be a starIMPULSE blog followers to participate in this giveaway.
(1 entry)
2. Tell me which Pillsbury Sweet Moment snack you'd like to try with your coupon.
Please answer this question or else your comment will not count! You must do this first or future entries will not be counted.
(1 entry)
BONUS ENTRIES
3. Subscribe by Email and Confirm that Subscription (1 entry)
4. Follow me on Twitter. (1 entry)
5. Tweet about this giveaway and send me a direct link to that tweet, you can do this once a day. (1 entry per day)
6. Subscribe to my YouTube channel. (1 entry)
7. Add my StarIMPULSE button to your sidebar and send me think link to your blog so I can see it. (1 entry)
8. Add StarIMPULSE to your blogroll (using my URL), with a link back to me! (1 entry)
ONE winner will be chosen on September 26, 2010 at 5:00pm (EST) and then will be emailed.
Alternate winners will be chosen if winner does not respond after 48 hours. This contest is only open to all US Residents. Thank you and good luck!
Disclaimer-
I was provided a product in exchange for my review.
You can read more about my blog policies in my disclaimer.