Hey everyone! So my next review is for
Eucerin
. Eucerin is a great company for skin products. It provides gentle, effective skincare that dermatologists trust. I received the Plus Smoothing Essentials and the Plus Intensive Repair Hand Cream to review.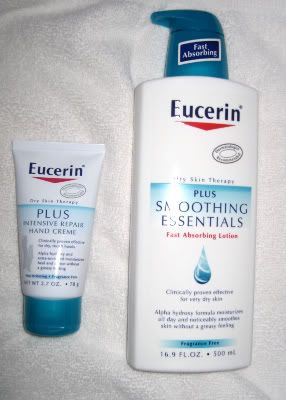 Eucerin has a wide range of products for skin care use my dad uses the Aquaphor line quite often. Their Plus line is a combination of intense moisturization and exfoliation for dry to very dry, flaky skin.
While I don't really have dry skin, I always feel like my skin gets dried out after showers and like to moisturize, especially my hands, feet, and calves. Plus in the summertime my skin tends to get dried out more from the sun. My elbows though are super dry, I think it's because of always leaning on the desk with my elbow throughout school, hahaha. So yeah I've been applying both creams at least every other day and I really like both of them. Sometimes lotions feel very greasy and oily after you put them on but neither of these had that gross problem. They both felt very soothing and made my skin feel very soft and smooth. I saw a difference in my skin within about a day from these products.
Eucerin's main goal is to bring attention to National Skin Care Awareness month and the importance of taking the necessary steps to strengthen and protect our skin. Although skin care is important year round, it's nice to see it getting national recognition as the summer is winding down. So, here are a few tips for National Skin Care Awareness Month to help strengthen and protect your skin:
Tip #1 - Cleanse Gently
If you've ever felt like your skin is a little too tight, it may be a sign that you have not cleansed properly. Clean skin is the first step in keeping skin healthy. Whether your skin is dry, oily, or somewhere in between, dermatologists recommend using a mild, non-irritating cleanser rather than a harsh soap. Otherwise, you run the risk of striping your skin's natural oils, which can lead to overly tight-feeling skin.
Tip #2 - Moisturize Properly
Moisturizers bind water to the skin so that it doesn't evaporate as quickly. The right moisturizer can also help bring the right pH balance to your skin and enhance its natural defenses. A product like Eucerin's Daily Skin Balance Skin-Fortifying Body lotion can help accomplish this by providing a pH buffer and all day moisturization while strengthening
your skin's protective barrier against external elements like pollution and climate changes.
Tip #3 - Take Time to Relax
If you're under a great deal of stress, chances are your skin is too. Stressed-out skin can eventually become thin and less able to regenerate itself. You can help prevent this by taking take time to focus and center yourself every day. This can aid not just your mental health, but the health of your skin and body as well.
Tip #4 - Feed Your Skin Right
Finally, the old adage "you are what you eat" is never truer than it is with your skin. For instance, foods with high antioxidant levels, like blackberries, blueberries, strawberries and plums, can help neutralize free radicals that can damage collagen and elastin, proteins that help maintain skin's elasticity and tone.
Check out
Eucerin's facebook page
for more information on skin health as well as you can still get a complimentary product through the Skin FIRST tab (supplies are limited and will be running out very soon, so you guys should get in on the action while you can!)
Overall, I really loved both of these. They improved the smoothness of my skin almost immediately. Definitely check out their wide range of products from their Redness Relief to their Daily Skin Balance, they have a skin care product for every type of skin out there!
Buy It!
Head on over to
Eucerin's Where to Buy page
and see what store is selling it near you! Near me it's sold at CVS, Rite Aid, and Kmart!
Win It!
ONE winner will receive a bottle of Eucerin Plus Soothing Essentials!
1. Go to
Eucerin's website
and comment on this post telling me a fact you learned.
Please answer this question or else your comment will not count! You must do this first or future entries will not be counted.
(1 entry)
BONUS ENTRIES
2. Take the
Skin First Pledge
for each pledge submitted, Eucerin will be making a donation to
HealthyWomen.org
.
3. Follow starIMPULSE on blogger. (2 entries!)
4. Subscribe by Email and Confirm that Subscription (1 entry)
5. Follow me on Twitter. (1 entry)
6. Tweet about this giveaway and send me a direct link to that tweet, you can do this once a day. (1 entry per day)
7. Subscribe to my YouTube channel. (1 entry)
8. Add my StarIMPULSE button to your sidebar and send me think link to your blog so I can see it. (1 entry)
9. Add StarIMPULSE to your blogroll (using my URL), with a link back to me! (1 entry)
ONE winner will be chosen on October 10, 2010 at 5:00pm (EST) and then will be emailed.
Alternate winners will be chosen if winner does not respond after 48 hours. This contest is only open to all US Residents. Thank you and good luck!
Disclaimer-
I was provided a product in exchange for my review.
You can read more about my blog policies in my disclaimer.