Hey everyone! So my next review is for
Bad Idea T-Shirts
. Bad Idea T-shirts is a great place to find
funny t-shirts
at super cheap prices. I received a Walley World t-shirt, a reference to one of the greatest, if not the greatest, family road trip movies of all time.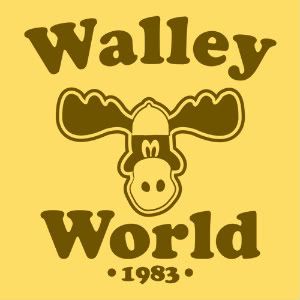 Now, if you don't know what movie this is a reference to then you obviously aren't watching enough television. Or too much crappy reality television and not as much classic 80's films. This shirt is a reference to National Lampoon's Vacation which is about the Griswolds' crazy adventure to a big theme park called Walley World, hence the shirt. That's all I will tell you because you need to see it. It's not my favorite Vacation movie (Christmas Vacation is and has become a staple in my family to watch every Christmas season) it comes in at a close second. It's hilarious.
What I love about the shirt though is that, it's kind of an inside joke. Like you would love the shirt and think it's great if you saw the film but even if you didn't you would just brush it off as a regular shirt, you know? It doesn't say loudly "I LOVE VACATION" it says it in a kind of sneaky way. Plus I loved that it was a different color than just your average blue or black or white shirts. The yellow stood out a bit more and while I'm not a big yellow fan I liked it on this.
But aside from my shirt, you guys have to check out their huge array of shirts. They have something for everyone from controversial political shirts, to film shirts, to just funny shirts about drunkness and wordplays.
But, what makes this shirt website stand out from the other funny t-shirt websites out there? Well, I would answer that with one thing: price. Many websites like this have shirts ranging from $14 to $20 bucks which is eh kind of normal t-shirt price nowadays but, Bad Idea T-shirts does it even better. They're currently running a special that alllll of their shirts are 50% off! Yup, all shirts start at only $7.50! I'm not sure how long this promotion is running for because there's not end date, but grab a bunch of shirts while you can!
If you still can't afford the $7.50
follow Bad Idea T-shirts on facebook
they're giving away a shirt a day!
Definitely check this website out, there's so many funny shirts and definitely one, heck more than one, for everyone to enjoy. It took me forever just to settle on this one!
Buy It!
Head on over to
Bad Idea T-Shirts's website
and browse their awesome selection!