Hey everyone! So my next review is for
Bodycology
. As the website says:
"bodycology® strives to improve women's lives through products that feed the mind, body and soul. We encourage women to "find their bodycology" with our delicious range of products that use the highest quality ingredients, long-lasting fragrance and upscale, beautiful packaging – and all at a great price!"
They have fantastic body products and I was lucky enough to try their Coconut Lime Shower Gel and Foaming Bath as well as their Clean Lemon Anti-Bacterial Scrubbing Hand Soap.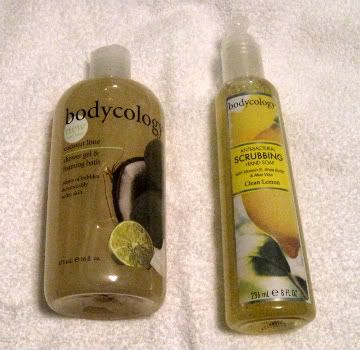 Now I didn't pick these, mainly because Bodycology has such a wide range of products it would've taken me forever to pick something. But I was super excited when I saw what they sent me. This excitedness stemmed mainly from the Coconut Lime body wash. I'm not sure if I mentioned this ever, but I am a diehard fan of coconut. I love coconut-smelling/flavored anything! It's just sooo good. Though I was a tad bit skeptical about the lime part of it, but that skepticism immediately faded away once I tried it out. The coconut and lime mixture gave it such a great tropical scent. I loved it, definitely my new favorite body wash now. A lot of body washes though have a weak smelling scent like it smells good in the bottle, but once you put it onto your loofah the scent is gone. Others are just too strong smelling, which makes them kind of smell too fake and too sweet. This one is a great medium, not too strong not too soft, just perfect.
Aside from the smell of the body wash it is great too! A small dollop goes a long way, you don't have to keep adding more dollops to your loofah or anything. It foams up really well. Plus it is also great that it comes in a giant bottle so it can last me foreverrr, haha. You can also use after a long, stressful day as a bubble bath. Oh yeahh! The outcome is great as well, because of the honey and aloe vera ingredients, this shower gel conditions and hydrates your skin. My skin didn't dry out or anything. Loved ittt!
The Clean Lemon anti-bacterial scrubbing hand soap was really great too. I don't want to sound repetitive but everyone knows the smell of lemons = cleanliness, so it's great to have a hand soap lemon-scented because not only does it clean your hands but it also just gives you a nice clean feeling overall. The soap consists of vitamin E, shea butter and aloe vera, and gentle scrubbing beads. So while it is a scrubbing soap it doesn't irritate or dry out your hands. Also not only does it serve as a regular soap but with it's anti-bacterial function it gives your hands a deep cleanse that kills some major germs.
Overall, these products are really great. They definitely do their job and they smell great and make you feel great while using them. There's definitely products here for anyone, or at least any lady. From lotions to mists to washes to bathing beads. Definitely check Bodycology out, you will not be disappointed!
Buy It!
Head on over to
Bodycology's Find Us Page
and see where Bodycology is sold near you! Near me it looks like it is sold at many Walgreens and Walmarts.
Disclaimer-
I was provided a product for free in exchange for my review.
You can read more about my blog policies in my disclaimer.