Hey everyone! So for this review and giveaway, I'm teaming up with the lovely people at
Eucerin
again! If you want to check out my previous review of theirs,
go here!
You may recall that September was National Skin Care Awareness month and they wanted to bring awareness to the how important it is for taking the necessary steps to strengthen and protect our skin. Well just because Skin Awareness is only for a month Nationally doesn't mean that Eucerin plans on stopping to inform everyone on skin care. For October, they hope to educate people on the science behind skin aging and teach them how to take the necessary steps to prevent wrinkles and keep their skin looking healthy. Which is why they sent me their Daily Skin Balance Skin-Fortifying Body Lotion and Hand Creme to review!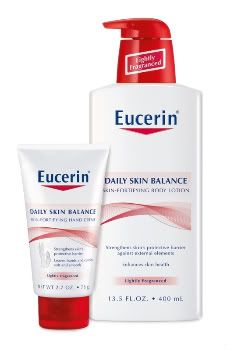 While the last skin care product catered toward the moisturizing and exfoliation for very dry skin, this daily skin balance is for all skin types. Daily Skin Balace strengthens the skin's protective barrier against external elements like pollution and climate changes which can weaken your skin's health over time. Daily Skin Balance also enhances skin health, is fast absorbing, provides 24 hour moisturation and is lightly fragranced.
I really liked this lotion, it wasn't sticky and smelled really, really good. It is hard to explain what it smells like...it's not really perfumey and isn't super flowery. It smells kind of like a powdery, clean scent. It is very refreshing, especially if you lotion yourself up after a shower like I do.
But being that for the month of October Eucerin wants to educate everyone on the science behind skin aging. Here's some ways to take the necessary steps to prevent wrinkles and keep your skin looking healthy:
First you should know what causes aging.
Skin is composed of two main layers, the epidermis and the dermis, with an insulating layer of fat below, called the subcutis. The dermis provides a network of collagen and other connective tissue elements that act like a scaffold that helps to maintain firm, flexible skin. As you age, the collagen network is diminished and your dermis holds less water.
Put it out, seriously.
Smoking affects more than just your lungs. It results in poor circulation, brown spots and wrinkles. Many of the 4,000 plus chemicals in tobacco smoke can damage our collagen and elastin when absorbed into the skin. These fibers give skin strength and elasticity, so when you're smoking, you're getting sags and wrinkles (and giving them to other people too!).
Wear sunscreen.
We know you've heard this one before but we just can't stress enough how important it is. Sunscreen is one of the most effective ways to help prevent wrinkles. UVA rays can penetrate into the dermis of the skin and are the primary cause of chronic sun-induced damage like premature skin aging. These rays (or ultraviolet light from tanning booths) are toxic to your skin. They increase production of free radicals and trigger cellular changes that can lead to wrinkles, brown spots, sunburn and dryness, or serious diseases like cancer.
Moisturize. Moisturize. Moisturize.
Extreme changes in temperature and humidity can damage the skin. Cold and dry air saps water from our skin, leaving it dry and flaky while hot and humid air can lead to drier, unhealthy skin. Much of this climatic impact on skin can be prevented with moisturizing cream. Eucerin's new Daily Skin Balance Skin Fortifying Body Lotion and Hand Crème strengthens the skin's protective barrier against external elements and enhances skin health while providing 24 hour moisture.
Eat Well.
You are what you eat. Limit your consumption of low-fiber, high-sugar carbohydrates (hold off on the ice cream, people). A diet composed of fruits and vegetables, lean protein, high-fiber grains, low-fat dairy and poly- and monounsaturated fats that is low in red meat, saturated fats and sugar, will help maintain your skin's health.
Overall, just like the previous lotion Eucerin sent me, I loved these as well. It kept my skin so smooth and smelled really great. Plus, going in the city pretty often with lots of pollution and such it's great to know that there's a skin product to help protect you from that.
Buy It!
Head on over to
Eucerin's Where to Buy page
and see what store is selling it near you! Near me it's sold at CVS, Rite Aid, and Kmart!
Win It!
ONE winner will receive a bottle of Eucerin Daily Skin Balance!
1. Go to
Eucerin's website
and comment on this post telling me a fact you learned.
Please answer this question or else your comment will not count! You must do this first or future entries will not be counted.
(1 entry)
BONUS ENTRIES
2. Take the
Skin First Pledge.
3. Follow starIMPULSE on blogger. (2 entries!)
4. Subscribe by Email and Confirm that Subscription (1 entry)
5. Follow me on Twitter. (1 entry)
6. Tweet about this giveaway and send me a direct link to that tweet, you can do this once a day. (1 entry per day)
7. Subscribe to my YouTube channel. (1 entry)
8. Add my StarIMPULSE button to your sidebar and send me think link to your blog so I can see it. (1 entry)
9. Add StarIMPULSE to your blogroll (using my URL), with a link back to me! (1 entry)
ONE winner will be chosen on November 4, 2010 at 10:00pm (EST) and then will be emailed.
Alternate winners will be chosen if winner does not respond after 48 hours. This contest is only open to all US Residents. Thank you and good luck!
Disclaimer-
I was provided a product in exchange for my review.
You can read more about my blog policies in my disclaimer.