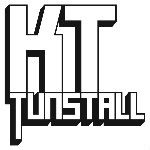 Hey everyone! So my next review is for
KT Tunstall
's new album Tiger Suit. KT is a grammy-nominated singer better known for "Suddenly I See" and "Black Horse and the Cherry Tree" both of which were stuck in your heads a few years back. I received a copy of her new album to review thanks to the
One2One Network
. The album, Tiger Suit, is out in stores now.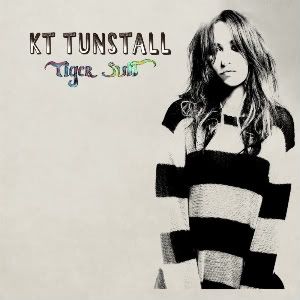 I actually was a big fan of KT's first album, til "Black Horse" got super overplayed on the radio...but the other songs were still pretty great too. A great variety of fast and slow songs. So I was super excited to listen to her latest album and it is a bit...different. Not that that is a bad thing! But it is a much more mellow album, not a huge variance from song to song, yet still a much more mature album. The songs aren't as poppy, more adult or soft-rockish, if that makes sense. You can tell she has evolved as an artist and while it is great that she has, I kind of missed the poppiness of her previous songs.
For instance, her first single off of Tiger Suit is "Fade Like A Shadow" and its repeating riff and chorus:
"So I choose my weapon, choose my way. It's easy saying nothin' when there's nothing to say. I'm thinking about this everyday. I'm starting to notice you're fadin' away. Fade like a shadow, fade like a shadow. fade like a shadow, fade."
Is fairly catchy yet a bit melancholy which is a bit catchy, it is hardly as catchy as "Black Horse and the Cherry Tree"'s chorus. This song is catchy but it is easily forgetable compared to the first single from her first album.
I feel like KT Tunstall's previous album was happier too, in a way...more empowering. Songs like "Suddenly I See" discussing about someone knowing what their future is and what they want to be. Even the slow song "Universe & U" which is a love song basically implying that understanding and believing that love can turn you into the universe and each other. While these songs are more downers. Fading like a shadow? Another song "The Entertainer" basically says that even though you write and sing songs about love you're just used to being the entertainer and you don't mean it anymore.
I'm not saying this album isn't bad, she's just matured and much like how all artists mature musically the sound changed a bit. It's more adult and I just prefer the youthful poppiness that she originally had. There are some great songs, I really love how the album opens with "Uummannaq Song" it's a really great introduction song with the echoing "yeahs" and the loud drums, it's one of the louder more triumphant songs.
It was definitely worth listening to but I would preview the album before buying it. Which, hey! You actually can do
right here!
At least give it a listen, it might actually grow on you! :)
Buy It!
Head on over to
Amazon
to buy her latest album! Or check out a local CD store near you!
Disclaimer-
I was provided a product for free in exchange for my review.
You can read more about my blog policies in my disclaimer.