Hey everyone! So my next review and giveaway is for
Executive Gift Shoppe
. Executive Gift Shoppe is an awesome website that sells a whole slew of goodies. From zippo lighters to leather briefcases to flasks to desk organizers. If you're looking for a gift, maybe for a business-type person, this place is where it's at. It doesn't have to be for business folk though! Although the name begins with Executive it's a gift shoppe, and if you like to get your drink on, game on, work on, or travel on I'm pretty positive you'll find something on here. I was lucky enough to try not one but two products from this company, two very different items. One is a flask and the other is a travel alarm clock, haha.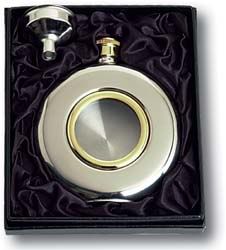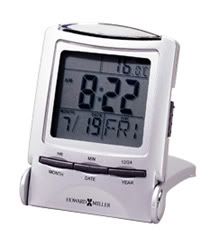 Both of these products are awesome. I'm not going to lie, I've kind of always wanted a flask. I don't know why but I just always have...but I just never bought one. I should've bought one maybe in Ireland but damn those are expensive! Luckily though, you don't have that problem here at Executive Gift Shoppe. They're pretty reasonable about their prices, almost too reasonable. Like I was very nervous about this flask, I thought it might've been too cheaply made or something like a lot of them you find at souvenir shops. It wasn't the case with this one. It was quite sturdy. Also this one has a little window so you can see inside of it, may not be great if you're sneaking in it and tell the security guard "oh it's just juice/water/whatever" and they see it's clear or whatever color your alcohol of choice is, haha. But it's very nice to see how much is left in it. It also came with a funnel which is super helpful because the whole is so tiny, I couldn't imagine not using a funnel to pour it in. I actually chose the Stainless Steel 5 oz Round Flask with Gold Trim & Flask & Funnel Set mainly because it came with a funnel. I also chose round because I always thought round ones were cool, different, and one could argue possibly more feminine. It came in a super fancy box with directions on how to clean it and use it. It would've made a great gift and it did, for me, haha.
I chose the travel clock mainly because I do love to travel. I studied abroad last fall (oh my god, it's already been a year!!) and I had to buy a clock from Argos, it was fairly cheap, but it was one of those big ones you find in hotels, you know they're black and red and it had the UK outlet, so I had to throw it away before coming home. Next time I will be more prepared because of this little guy. I chose the Distant Time Traveler Travel Alarm Clock by Howard Miller because I liked that it lit up and you can cover it up and easily put it in your bag or suitcase. It just seemed easy to use and fairly durable. I like how there's a big button up top that you can just hit for it to light up and for you to see what time it is and I like that the numbers are quite large. The clock itself is pretty small but not super small. I'd say it's the size of a credit card, maybe little wider. One thing I was nervous about was the alarm, would it be loud enough? I like my alarms loud because I'm a deep sleeper. I tried it out and the sound was great, I mean great to wake you up it may not be so great in the morning, haha. All you need is a AAA battery which it comes with! I love products that include the batteries, makes life so much easier. Also it has a thermometer which I thought was pretty nifty as well. A basic alarm clock just for traveling and such is great I don't need anything super high tech, just something that works and will last, this definitely looks like it will fit the bill.
All in all, this is great website, whether you want to treat yourself or you need to get a gift for someone. It has a great selection for sports fans, I almost went for a Jets flask to give my cousin haha. They also have great desk accessories if you or someone you know has a desk job and wants to jazz their desk up a bit. Seriously, they have so much. They have such a huge selection of
Travel Alarm Clocks
and
Flasks
too, it took me like two days choosing what items of those I wanted, haha.
Definitely check out the website, there's so much to choose from I couldn't even name them all!
Buy It!
Head on over to
Executive Gift Shoppe's website
and browse their enormous selection, believe me you won't be disappointed!
Win It!
ONE winner will receive a perzonalized item of their choice worth up to $50!
1. Go to the
Executive Gift Shoppe
and tell me what product you'd like to win.
Please answer this question or else your comment will not count! You must do this first or future entries will not be counted.
(1 entry)
BONUS ENTRIES
2.
Become a fan of Executive Gift Shoppe on Facebook.
(1 entry)
3.
Follow Executive Gift Shoppe on Twitter.
(1 entry)
4. Subscribe by Email and Confirm that Subscription (1 entry)
5. Follow StarIMPULSE on Blogger. (1 entry)
6. Follow me on Twitter. (1 entry)
7. Tweet about this giveaway and send me a direct link to that tweet, you can do this once a day. (1 entry per day)
8. Subscribe to my YouTube channel. (1 entry)
9. Add my StarIMPULSE button to your sidebar and send me think link to your blog so I can see it. (1 entry)
10. Add StarIMPULSE to your blogroll (using my URL), with a link back to me! (1 entry)
ONE winner will be chosen on October 24, 2010 at 5pm (EST) and then will be emailed.
Alternate winners will be chosen if winner does not respond after 48 hours. Thank you and good luck!
Disclaimer-
I was provided a product for free in exchange for my review.
You can read more about my blog policies in my disclaimer.
IF YOU DO NOT CORRECTLY ANSWER MY CONTEST QUESTION, YOUR COMMENT WILL BE IMMEDIATELY REJECTED.