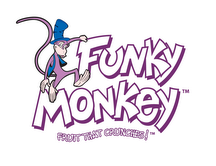 Hey everyone! So my next review and giveaway is for
Funky Monkey Snacks
. Funky Monkey Snacks are freeze-dried fruit snacks. I know the word "freeze-dried" doesn't sound too appetizing, but believe me these snacks are so delicious! And addictive!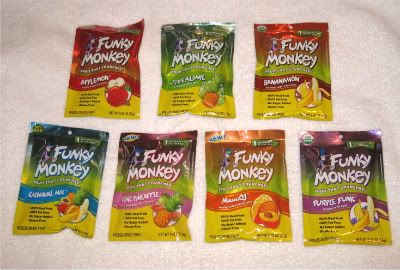 Funky Monkey's Flavors:
Applemon
Bananamon
Carnaval Mix
JiveALime
MangOJ
Pink Pineapple
Purple Funk
Each bag has 1 serving of fruit, it's 100% real fruit, and 100% fat free. They're also gluten-free, wheat-free, dairy-free, peanut and tree nut free, and contain no added sugars, colors, flavors or preservatives and they're kosher too! They're all between 35 and 45 calories per bag too, which is awesome. Funky Monkey's freeze-drying method also uses less energy than other processes by utilizing thermodynamics and steam from a cashew shell-powered boiler.
Now I know everyone is skeptical with healthy snacks because of course they never taste as good as the unhealthy, super sugary snacks. But that isn't the case with Funky Monkey Snacks. Specifically because that's how they felt too, and that is why they created their awesome snacks. Being that they're 100% fruit they don't need any added sugars. Plus they're not your average fruit snack, applemon isn't just apple flavored fruit snacks because they combine the most amazing flavors such as: apple and cinnamon, pineapple and lime, banana and acai, and more! Delicious combos with a crunch, like yummy fruit chips...only better!
In fact, most of the combinations are, it was very difficult picking a favorite, so instead I will just tell you the one (yup, just one) I didn't like. I didn't like the MangOJ mainly because I'm not a big Mango fan and it left a weird taste in my mouth. I loved the rest because I am a huge fan of bananas and pineapples which I feel both don't get much credit in the fruit world. And Applemon well, whoever thought of the idea of combining apples and cinnamon back in the day was a genius because you can never go wrong with that flavor, so that was an obvious deliciousness.
One problem is how addicting these babies are, yeah they're only like 45 calories per bag but...sometimes I had two bags just because one wasn't enough, haha. I had to try the next flavor, mainly for curiosity sake because if this one had to be this delicious then so did the next one and so on, haha.
But you guys definitely have to try them, especially if you have kids and want them to eat healthier snacks or if you yourself have a sweet tooth but want to start eating healthier snacks (ie: me, haha). You definitely won't be disappointed!
Buy It!
Head on over to
Amazon
where you can order them online or check out
Funky Monkey Snack's website
and click on the
Where to Find
tab to see if a store near you sells them!
Win It!
Win It! ONE winner will receive a Funky Money prize pack!
1. Go to the
Funky Monkey Snacks' website
and tell me what flavor you're most excited to try.
Please answer this question or else your comment will not count! You must do this first or future entries will not be counted.
(1 entry)
BONUS ENTRIES
2.
Become a fan of Funky Monkey Snacks on Facebook.
(1 entry)
3.
Follow Funky Monkey Snacks on Twitter.
(1 entry)
4. Subscribe by Email and Confirm that Subscription (1 entry)
5. Follow StarIMPULSE on Blogger. (1 entry)
6. Follow me on Twitter. (1 entry)
7. Tweet about this giveaway and send me a direct link to that tweet, you can do this once a day. (1 entry per day)
8. Subscribe to my YouTube channel. (1 entry)
9. Add my StarIMPULSE button to your sidebar and send me think link to your blog so I can see it. (1 entry)
10. Add StarIMPULSE to your blogroll (using my URL), with a link back to me! (1 entry)
ONE winner will be chosen on November 5th, 2010 at 5pm (EST) and then will be emailed.
Alternate winners will be chosen if winner does not respond after 48 hours. Thank you and good luck!
Disclaimer-
I was provided a product for free in exchange for my review.
You can read more about my blog policies in my disclaimer.
IF YOU DO NOT CORRECTLY ANSWER MY CONTEST QUESTION, YOUR COMMENT WILL BE IMMEDIATELY REJECTED.