Hey everyone! So my next review is for
Piggy Paint
. Piggy Paint is a really great nail polish company that is natural and eco-friendly. It's hypoallergenic, non-toxic, and odorless! Oh yeah I definitely know Piggy Paint one you guys over with the latter. One of the most annoying things about nail polish is withstanding its smell.
Piggy Paint recently introduced their new Tween polish line, "Project Earth" that includes wild, neon colors that will allow us to target an older audience. There are 5 wild, neon colors, and even a glow-in-the-dark polish! They sent me two random colors to try out "LOL" and "Radioactive."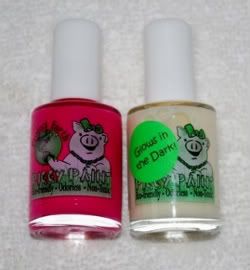 I had mixed feelings with these, mainly because of the colors. I am not a pink person at all, I would've rather have had any other color. But that's okay because Piggy Paint made up for it by sending me the Glow-In-The-Dark polish! Now I know this is a Tween line but I kind of disagree. I'm 22 and I love neon color nails, bright colors, I don't think I have ever painted my nails a neutral color or a red. Even at my graduation I had my nails painted neon green. Did they match my outfit? No but psh I liked the color, haha. But one thing I never heard of before was glow-in-the-dark nail polish. I know that it may seem kiddy-ish but what can I say? I am a kid at heart and I know a lot of people my age that feel the same way.
I was pretty skeptical though with how this glow-in-the-dark polish worked. But it was really simple. I put it over my nailpolish and then put a clear topcoat on. Be careful with how much you put though because it leaves kind of a white film if you put too much. But you also don't want to put too little because then it won't glow. All in all though it was pretty cool and worked! I feel like I should've put more on though but I suck at polishing my nails, it literally took me like 2 hours because I mess one nail up then it messes up another and I have to re-do it, ugh, haha.
All in all though, I was really happy with my nails. I showed off how they glowed to practically everyone. Making them turn off all the lights and everything, haha. But they really liked it. It's a very different but super cool idea, I'm surprised nobody has thought of it before. Definitely check them out, they're totally worth it because they have glow-in-the-dark polish AND because of all the perks, specifically, the odorlessness of it, I love that! They're only $8.99 and for a natural nail polish, that definitely isn't bad at all! They have many colors to choose from too, something for any girl whether your 13 or 30! Another great this is a portion of their sales from the Breast Cancer Pail will be donated to the Susan G. Komen Race for the Cure for Research!
Buy It!
Head on over to
Piggy Paint's website
and browse their awesome selection! Use the coupon code
IMPULSE01L
by December 31st, 2010 to receive 10% off your order!