Hey everyone! So my next review is for
Thymes
. As their website says, Thymes is
made with essential oils and natural ingredients, and artistically designed and packaged with hand-touched details, our products pioneered an entirely new category of botanically-based Bath & Body products.
They have fantastic bath and body products. I received their the Agave Nectar Body Lotion and Red Cherie Body Wash.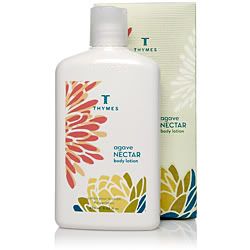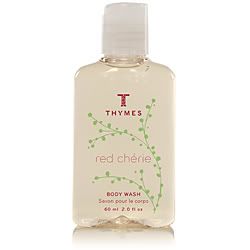 I really, really loved their products. The Red Cherie Body was came in a smaller, travel-sized bottle but I found out why in the shower, a little goes a long way! I put a dab onto my loofah and that little dab practically cleaned my whole body. The body wash is made with Skin-loving vitamin E, moisturizing glycerine, and restorative cherry extract. I also really do like the size because whenever I travel I usually bring with me those crappy soaps or shower gels you get for free at hotels, at least this one I can travel with and I know it's good. It's not a rough shower gel that dries out your skin, it makes your skin feel smooth and moisturized and smelling great!
Next is the Agave Nectar Body Lotion. I was a bit hesitant in choosing this one mainly because I hadn't the slightest clue as to what an "Agave Nectar" smelling product could smell like. But I chose it because it received amazing reviews and was new and wow, I am definitely super happy that I choise it! Because, Oh my god, out of the two of them this was my favorite. Not that the body wash was bad but this smelled amaaaazing! I definitely might have overloaded on the lotion with this one just because it smelled so great. According to the website the fragrance is: Refreshing agave nectar, ruby red grapefruit, tangy guava, and succulent lemon blossom. I'm not a huge fan of grapefruits eating-wise but wow, I never knew that they smelled sooo good! Dang! But I mean lotion-wise it was great too. According to the site, this lotion is made with: Moisturizing Agave extract, rich Jojoba oil, antioxident Vitamin E, and is paraben free. Parabens, in case you are wondering, are basically like preservatives but for cosmetics, shampoos, body products, etc. This lotion made my skin feel super smooth and great but also made it smell amazinggg! I loved it, kind of also loved the big bottle because I cannot get enough of it! It just smells amazing.
Overall, I am confident in saying Thymes has fantastic products just because the two I tried. They definitely make you in general feel amazing just because of your smooth and amazingly smelling skin. Their fragrances are great because they're not "coconut cream" or "strawberry kiwi" you know, regular ones you can get at ANY body product place. These fragrances are one of a kind and you will definitely be happy you passed on your regular "vanilla bean" body wash and chose one of these babies instead. Definitely check their website out, you will not be disappointed!
Buy It!
Head on over to
Thymes' website
and browse their awesome selection. Not only do they have lotions and washes but they have home fragrances, face moisturizers, and much more!