Hey everyone! So my next review is for
Beecology
. Beecology is a great "beecentric" body care company. They bring the best of nature to you by offering products for your hair, skin and lips. Their products are all natural and free of sulfates and paraben. All products are made in small batches and made by the family that owns the company. I was able to receive a sample set of their bars of soaps as well as their original honey hand and body cream.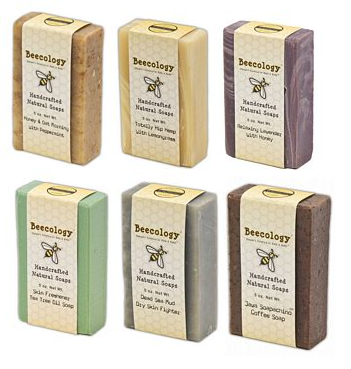 The soaps they have are:
Honey Oatmeal Morning Peppermint Soap
Totally Hip Hemp Soap
Honey & Lavender Soap
Tea Tree Oil Soap
Dead Sea Mud Soap
Java Soappuccino Coffee Soap
Mosaico.
I don't believe the Mosaico was in the pack that I tried but I tried all the others.
I've tried soap samples before and they lasted like one shower, maaaybe two or three if you stretched it, so I was a bit skeptical trying these samples out. But holy guacamole! For their size they lasted a long time! Not gonna lie I had to open another up while another still wasn't done yet a few times just so I could try them all. Each soap lasted a week and sometimes longer. I was very surprised, but in an excellent way.
It was very difficult choosing a favorite because they all were so good and all so different! How can you compare dead sea mud to honey and lavender, you know? But they all were really really great. My favorites though were Java Soappuccino Coffee Soap and Honey and Lavender. It was an extremely difficult decision but hear me out, when in the world have you ever seen a coffee scented soap??? And when, if you have has it smelled soooo good? Well, now you know where. As the website says:
" The pure, finely ground fresh coffee acts as an exfoliant. It also contains essential coffee oil and fresh cocoa for fragrance."
Also, according to the website, coffee soap is great for cookers to get rid of onion or anything strong smelling on your skin. So definitely check it out it is fantastic.
I chose the Honey and Lavender as well because, I'm a sucker for lavender smelling things. And Beecology knows it! Just check out the Honey and Lavender soap section and they even say you can't mak natural body products without a lavender option, people just love it. And it's true! I do! But, as the website says:
" What makes this soap unique? The way our exclusive blend of avocado oil and honey interact with the essential lavender oil. Together they moisturize and soothe dry skin, as well as soothing your over-stressed nervous system, easing headaches and melting tension."
I also loved that the soaps didn't dry out your skin or smell too strong. You can do both scents, coffee and lavender, wrong by making them too strong and artifically smelling. Lavender is a flower but not super flowery, you know? And Beecology apparently knew what they're doing, haha, becaus both scents smell amazing and all of the soaps work wonderfully.
As for their Original Honey Hand and Body Cream, wow, this stuff is really great too. Apparently it took Beecology 111 formulations before finally coming up with this stuff. Well, you know what they say...try and try and try and try x 111 again, haha. Well I can understand why they took so long to come up with this formula, it's probably really tough coming up with a good cream everybody likes. You don't want it too be too oily or too sticky and you want to smell nice too. Well, Beecology got this one right because it makes your skin super soft without leaving that oily or even waxy residue that, try as hard as you can, you just can't get it off your hands. Their special ingredient is Cupuacu which has tons of antioxidants and wonderful rejuvenating effects on skin. It definitely works, a small dab covers a lot too. It's great! I also love that it comes in a small bottle and combines hand and body into one cream which makes it an excellent travel accessory. Believe me, I've travelled enough in the passed ohh...three weeks? To know, haha.
Overall, Beecology is a great, great company whether you're looking for natural body, hair, or lips products this is your company! Definitely check them out!
Buy It!
Head on over to
Beecology's website
and browse their awesome selection! The bars of soap are only $5.99 and the Hand and Body Cream is $12.99. Awesome!