Hey everyone! So my next review is for
Kushyfoot
. Kushyfoot is a great website that sells socks but more importantly flats to go. Flats to go are pretty much what they sound like, easy roll-up flat shoes that you bring with you when you know the shoes/heels you're currently wearing will start killing you. And instead of dancing/walking barefoot you can just slip on these great flats.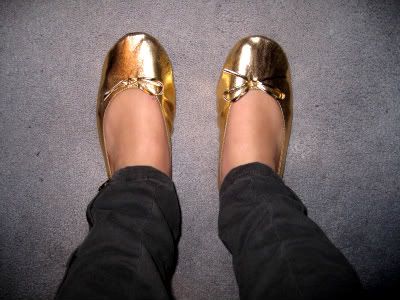 These flats come in a cute little plastic case that you can easily slip into your purse. They're not bulky at all. They're designed to slip into any purse. You may remember that I did a similar review of a product called Footzyrolls. They were really great too. A plus side to footzyrolls though was that they came with an extra, larger bag so you can dump your heels into. Kushyfoot didn't have that. But also, Footzyroll's cheapest price is $19.99, but Kushyfoots? Only $8.99! Huge bargain for a similar product. Especially if you want to save this holiday season.
Well all know the holidays are practically here and you know what that means -- holiday parties! So you can look your best in those fancy high heels, but bring along a pair of Kushyfoot flats just in case. Because those heels may look great but may not feel so great in a few hours.
These shoes I bet would make really great stocking stuffers too because they're very compact and a great gift to give to your daughter/sister/wife who likes to go out. It'll be a great gift for them because it's a really unique, thoughtful idea. I mean who else has flats to go? Pretty awesome.
I picked a size 7/8 in these and they fit perfectly. Not too tight or too lose, nothing really irked me about them or rubbed weirdly and I typically do have a problem with flats. These seem really great though. And they're padded at the bottom like any other shoe. They're really great.
Definitely check these out, whether you want to give them as a gift or as a gift for yourself, for a mere $8.99 you will not be disappointed!
Buy It!
Head on over to
Kushyfoot's website
and browse their selection!