Hey everyone! So my next review and giveaway is for
Casio
! Now come on, we all know and love Casio. Whether it is for their cameras, musical instruments, or watches, you know they're creating the best products out there. Which is why I was super excited to review their a watch from their Baby G line.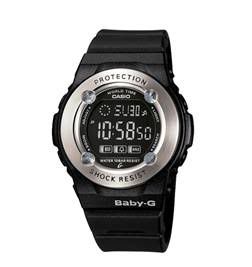 This one is the Module 3120 Baby-G and I love it. It's so easy to use, but it was also pretty great that Casio sent it to me already set up, I just had to change the time one hour, haha. But it has so much stuff on it. For instance, it is: shock resistant, 100m water resistant, world time including 29 time zones (48 cities), city code display, daylight savings on/off, 1/100 second stop watch, countdown timer, 4 alarms and 1 snooze alarm. auto calendar, 12/24 hour formats, and a backlight! Alllll of that in this handy cute little watch.
Not gonna lie, this isn't my first Casio watch before so I may be a bit bias. I had a watch of theirs for about 3 years and it "died" this passed May. By "died" I mean the watch was still working but the strap broke and no tape or glue could help put my watch together again. It was a sad day, especially because the watch still worked! So while this battery says it lasts approximately 3 years, I can say, by experience, that it lasts probably a little longer than that.
I also do love that this one is all black and still feminine for a digital watch. It it a smidge bit bigger than what I'm used to wearing, but nothing crazy huge. It is very comfortable and quite lightweight. I'm just worried about the strap holder, you know how you put the strap on but put it another thing from keeping it from sticking out? That was the first thing that went on my previous watch and then the strap. This one has two of those but they are quite thin, so I hope they don't break easily.
Overall though it is a great watch. Really comfortable and still quite stylish. A great gift for anyone. People keep saying watches are going out of style because of cell phones, I don't think so. I'm always too lazy to get my cell phone out to check the time that's why I love watches. Just check my wrist and bam.
Definitely check it out, also check out
Casio's Holiday Gift Guide
for the hottest items that make even hotter gifts from Casio!
Buy It!
Head on over to
Casio's website
and browse their selection!
Win It!
ONE winner will receive the same Casio Baby G Watch!
1. Head on over to
Casio's Holiday Gift Guide website
and tell me what gift you would like someone to get you off that site.
Please do these entries first or else your comment will not count! You must do this first or future entries will not be counted.
(1 entry)
BONUS ENTRIES
2. Subscribe by Email and Confirm that Subscription (1 entry)
3. Follow me on Twitter. (1 entry)
4. Tweet about this giveaway and send me a direct link to that tweet, you can do this once a day. (1 entry per day)
5. Subscribe to my YouTube channel. (1 entry)
6. Add my StarIMPULSE button to your sidebar and send me think link to your blog so I can see it. (1 entry)
7. Add StarIMPULSE to your blogroll (using my URL), with a link back to me! (1 entry)
8. Blog about this post. Comment below linking me to your blog. (1 entry)
FOR FIVE BONUS ENTRIES:
10. Follow starIMPULSE on blogger. Comment five times below saying you did so. (5 entries!!)
ONE winner will be chosen on December 19, 2010 at 5:00pm (EST) and then will be emailed.
Alternate winners will be chosen if winner does not respond after 48 hours. This contest is only open to all US and Canadian Residents. Thank you and good luck!
Disclaimer-
I was provided a product in exchange for my review.
You can read more about my blog policies in my disclaimer.