Hey everyone! So my next review and giveaway is for
Shapercise
. Shapercise is a great body shaper created by ShaToBu. You may remember I reviewed ShaToBu
here
. Shapercise is a body shaper that tones your body. I received the regular waist in nude. They also have high waist and also the color black. But I picked the high waist for ShaToBu last time so I figured I'd switch it up.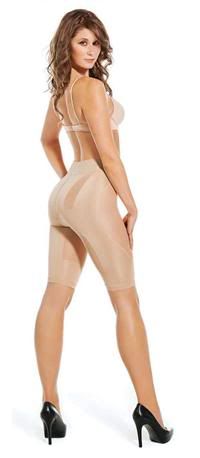 As the website says:
"Shapercise, Powered by ShaToBu™, is based on the principle of resistance training. Resistance is defined as a force which opposes motion. Seamless bands strategically placed directly in the shaper demand an additional muscular effort when walking or moving, which consequently strengthens (tones) muscles."
But what is great about this shapewear is that it's not like all of those other shapewears that kind of send the message that it's okay not to work out, you can wear this instead. No this one actually promotes an active lifestyle, it even comes with a pedometer and exercise tips. The exercise tips are really simple and very "mom" friendly too. Such as, doing squats when pushing a stroller, or take two steps slowly up the stairs. Shapercise recommends doing one of the exercises for five minutes every hour and many of them you can do at work.
I really liked this shapewear, it's just like others though, for instance it is very tight to put on. But, unlike most shapewears it is seamless, kind of tightens up your muffin tops so they're not muffin tops anymore. They smooth out, shapen your body more. It's really good in that way. While the whole exercise part of the Shapercise, you know how it is supposed to increase caloric burn, I honestly did not feel much of it. But also, Shapercise recommends wearing it everyday, not just for a night on the town or anything. And, to be honest, I did not wear it everyday, only a few days. But I'm sure it does work if you wear it properly.
Overall, it is a very handy product. Great to smoothen out problem areas and I did like ShaToBu and I trust that they don't put out crappy products so I'm pretty confident that this will definitely help tone at least a little bit of your body. I'm sure though if you do the exercises too it will help even more.
Definitely check it out if you're into toning your body and slimming down more. This also could be a good gift to someone for like a stocking stuffer or something. I am giving my mom a similar product to put in her stocking. Just remember to give it to someone close to you that won't think you're giving this to them because of their love handles or something, hahaha. But unfortunately though, they're not available for purchase yet, but definitely keep it in mind for next Christmas, haha!
Buy It!
Head on over to
Shapercise's website
and browse their selection. I don't believe they're available for purchase online yet but they will be sold there soon as well as in Duane Reade stores in New York City beginning in early 2011.