Hey everyone! So my next review is for
Fraas Scarves
. Fraas is a great scarf company that has a huge variety of scarves for both men and women. I got to review their Cashmink scarf.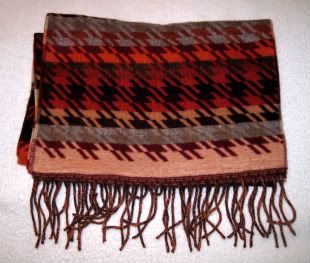 While I'm not a huge fan of the colors in the scarf it is a really comfy scarf. It is so soft it feels like Cashmere, hence the name, but actually it's 100% acrylic. It's a scarf made with a fiber that is 20% finer than cashmere and in fact its often mistaken for cashmere. Its called Cashmink which is an exclusive acrylic that V. FRASS created based in Germany. As the website says:
"Supernatural soft, warm, of course – Cashmink® is the result of years of experience and highly technical, patented manufacturing and finishing processes. A special feature synthetic material that surpasses any natural fibers in softness, warmth and comfort. Is there anything finer than cashmere? Yes there is. Cashmink ® is finer than all the fibers in the wild, even 20% finer than cashmere fibers. And you can feel. Incomparable softness, thermal insulation for optimum body climate. In short: Cashmink® is easy to cuddle up and feels good."
I really do love the feel of the scarf, it is so soft and not itchy at all. It's very lightweight and isn't too static-y like some scarves are. It's also a great gift especially this time of year when winter is quickly approaching, scarves are a definite neccessity. I actually plan on giving this as a gift to one of my friends who loves oranges and browns, autumnal colors that I particularly aren't a fan of. I really do like the houndstooth style though, it's really neat.
What's great is that Fraas scarves has scarves for both men and women, what's not so great is that they're German and it doesn't look like their very available around the US only online. But they have a huge variety of scarves for both men and women, definitely check out their website!
Buy It!
Head on over to
Fraas' website
and browse their selection but if you're a fan of the Cashmink check out
QVC's website
or
Amazon.com
.