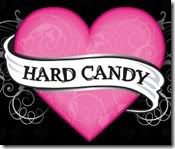 Hey everyone! So my next Holiday gift guide review is for
Hard Candy
. Hard Candy is a great, reasonably priced make-up company. It's actually sold at Walmarts all over but the make-up is really cool and funky, more unique than the plain and drug store brand makeup companies.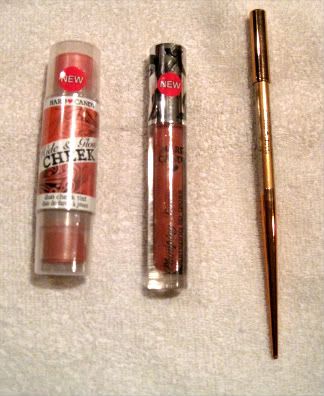 Sorry for the bad quality photo, it was hard to take a picture of them, but trust me, they're all a lot prettier than that!
The I received are:

Hide and Glow Cheek Duo Cheek Tint in "In Love"
Plumping Serum Volumizing Lip Gloss in "Nude Beach"
Take Me Out Eyeliner Molten Metal in "24k"
First off, let me talk about the eyeliner. It's definitely my favorite item. It's a great shiny gold eyeliner but not too gold, just enough for your eyes to pop. The other day I was at Target and kind of went make-up crazy and was THISCLOSE to getting a Rimmel London gold eyeliner like this, but I didn't. So I am so happy I received this one, it is really great. It is easy to use, goes on your eyelids and under eyes very easy and looks great on. I'm funny, I'm not a gold person, I don't like gold jewelry or anything like that, I'm way silver. But I love gold toned makeup. I'm a blonde, hazel eyes, it looks good on me, okay? Haha no but seriously, I really love this eyeliner. What's great is that you can put some on for just daily use or rock it for a night on the town. Definitely my new favorite eyeliner.
Next up is the Hide and Glow Cheek Duo. I actually just bought one of these from ELF from Target, except it was a single one, just because the idea of the product interested me and I wanted to try it. I like this one and how it's double and you can either put both on or choose. But still, I'm not sure if I like these creamed stick blush. Maybe because I am stuck in my powdered blush ways. But I feel like they make your cheeks feel too make-upy and almost sticky. I also like the colors but separately, maybe it's because I'm pretty pale, but when I put both of them on one over the other I looked like I was blushing for real. I did like the colors, one is more mauve while one is more pink, but I just have to get used to putting it on my face.
Lastly, the lip gloss. First of all, can I just say I love the names of these things? Nude Beach is hilarious but still, when you put on the gloss is very appropriate. It is a nude but shiney with some glitteriness in it, but not super glittery where it's cheesy and overdone. Just enough to make your lips shine. It has a tingly feeling too, I guess that's the lip plumping serum working. I didn't see a huge difference with my lips though, plumping wise, but it's hard to tell when it's your own lips you know? I loved the color though, not too flashy but not too plain. Also it's not that sticky like a lot of lip glosses are. And the tingly sensation stays on your lips for a while, it may feel weird to some people but I like it. It gives me the feeling that they're also unchapping my lips too, medicating them, you know?
Overall, I really liked these products and definitely plan on make-up shopping next time at Walmart instead of Target just to check out their Hard Candy selection. Definitely check them out, especially if you're into make-up but even more into shopping on a budget. These are all reasonably priced and totally worth it! Even if you're still looking for some stocking stuffers for your daughter/sister or just a small gift for your make-up crazy friend, head on over to Walmart and check out Hard Candy!
Buy It!
Head on over ot
Hard Candy's website
and browse their selection. I feel like the colors on their website doesn't do the colors of the make-up justice, so definitely check out your local Walmart and see the awesomeness in person too!