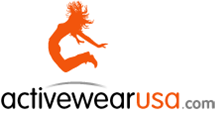 Hey everyone! So my next review is for
Activewear USA
. Activewear USA is a great workout gear website that has a huge variety of clothing and accessories for working out for both men and women. I received a pair of Doce Vida Fitness Park Ave workout pants to review.
I was kind of disappointed in both myself and the pants. Myself mainly for picking these pants because I didn't know how low cut they are, in the picture you can't see but the waistband is a V and is very low cut, when you try and raise them up...cameltoe ensues. My problem area is my hips/lovehandles too so they kind of spew over the edges of the pants, needless to say, not my kind of pants. I gave them to my cousin though who is much smaller and more petite than I am and they fit her a lot better. It stinks because you can tell the quality of these pants are great and made very well, but I am glad someone got to wear them.
What is great though about this company is that they have a commitment to the environment in action and every order they ship contains a reusable aluminum sports bottle for us to use instead of plastic bottles. I think this is a fantastic idea, super proactiv and a really great step towards helping the environment. It's a nice sized bottle too and definitely will be used in my house.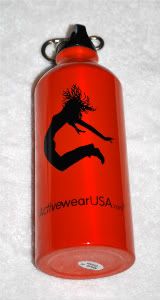 If you're into working out or want to start getting into working out, definitely check out this website for some workout gear. As the website says:
"Activewear USA was founded with the goal of providing the best yoga and fitness activewear clothing on the market, to encourage women to look and feel their best while enhancing their life through fitness."
The site has a variety of clothes and they prices vary too, they have 30+ clothing brands. There's definitely something for everyone, you can get some fancy tye dye pants or a plain workout shirt. They even have yoga bags
and and mats, too.
Definitely check out this site if you're in need of some workout clothes or need to give your fitness friend a gift. Just make sure you look at the pictures and read everything on the products. I think the picture of these pants that I reviewed are deceiving because you can't see the front of them, next time I will be more careful.
Buy It!
Head on over to
Activewear USA's website
and browse their enormous selection, there's something for everybody -- men and women!