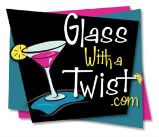 Hey everyone! So my next review is for
Glass with a Twist
. Glass with a Twist is a great website that sells personalized engraved glassware, from wine glasses to pitchers to beer mugs. I was sent a wine glass and a shot glass to review.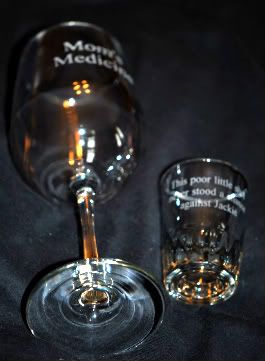 The wine glass is for my mom, it says "Mom's Medicine" her birthday is coming up soon and I plan on giving it to her then. The shot glass is actually for my cousin Jackie, her birthday was yesterday and I gave it to her then and she loved it. The shot glass says "This poor little shot never stood a chance against Jackie."
They actually sent me a cocktail glass first instead of a wine glass, mainly because I asked for that then changed it, but they are were incredibly accomodating and sent the replacement immediately, I got to keep the cocktail glass as well. The cocktail glass also says "Mom's Medicine" so I guess I'll give that one to my mom too, hey I'm pretty sure she won't complain, hahaha. But I just liked that they were very easy to work with, it was very nice of them to send a replacement.
The quality of the glasses are great too, the shot glass is actually quite large, as is the wine glass, and they're both fairly sturdy. The shot glass is a heavy little thing, definitely not a crappy glass item.
So whether you're looking to give a gift to someone or just something for yourself, this is a great website to go to. Giving gifts like this is really nice because it's very personable, you know? Instead of getting them a gift you're not sure they'll like, if they're drinkers, get them a glass you know they'll use and personalize it. They even have his and her champagne flutes, great for a wedding gift or something. Also a pitcher, for your friend that either loves sangria or loves iced tea, haha.
Another great thing is that they have a lot of creative engravements you can use like "(name)'s Bar" or "Mommy's Juice" but you can also create your own engravement.
Overall, Glass With a Twist is a great shop for creative gifts that people will love and get a great kick out of and get use out of! Definitely check out this website, you will not be disappointed.
Buy It!
Head on over to
Glass With a Twist's website
and browse their awesome selection, you can buy in bulk or buy singles. Buy combos/pairs combos or not. Either way, there's something for everyone.