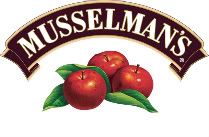 Hey everyone! So my next review is for
Musselman's applesauce
. You may remember that I reviewed a few of their yummy apple products before, and you can check out the previous reviews
here
.
I received a
48 oz Musselman's Natural Apple Sauce
in their pink ribbon package and a recipe book called
"Substitute Yourself Skinny" by Susan Irby
. I also received a little information packet promoting Breast Cancer awareness.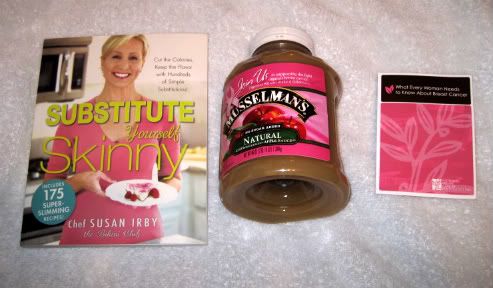 This time Musselman's want to help you guys ring in the new year by taking two easy steps that make a huge difference through our plan for a healthy New Year: Simple Steps, Big Impact!
"Musselman's is kicking off the New Year once again by partnering with the National Breast Cancer Foundation. (The NBCF is dedicated to raising
awareness of breast cancer through education and by providing mammograms for those in need.)Musselman's understands the importance of early detection, and is hopeful that our partnership with the NBCF will encourage you and your readers to take this first Simple Step in improving your health by having a mammogram in 2011.

In the month of January, for every package of Musselman's Natural and Healthy Picks Apple Sauce purchased, we will donate ten cents to the NBCF. Last year we reached $85,000, and we'd love your help spreading the word so
we can reach an even higher amount this year! You can find more information about these efforts here.
I thought the applesauce was really delicious. I've had it before and I'm a huge fan. It's sweet yet still a healthy snack. You can have it either with a meal like pork chops or just as a quick snack. It's really great. If you like applesauce or even just apples definitely try it and support the cause!
The recipe book was great too. The book includes with the recipes hundreds of simple substitutions to make your favorite foods healthier, including using apple sauce instead of oil when baking or using just egg whites instead of eggs for breakfast burritos. While I haven't made anything from the recipes yet I definitely plan on it. All of the food looks really delicious. They have something for every meal -- breakfast, lunch, and dinner -- and any type of dish from molten chocolate cake to lazy lasagna.
Definitely check out Musselman's applesauce and the book "Substitute yourself Skinny."
Buy It!
I saw the apple sauce at my local Shop Rite, so I'm sure they're at a local supermarket near you! If you're unsure though check out the
Store Locator
. You can purchase the book on Amazon for just $14
here!
Disclaimer-
I was provided a product in exchange for my review.
You can read more about my blog policies in my disclaimer.