Hey everyone! So my next review is for
Nicole by OPI's new line called Liquid Metals
. This is actually the first OPI review out of three new reviews for three new lacquer lines of them. New Year = New colors for OPI, yay! I'm a big fan of theirs, but you all know this because I've reviewed them a few times in the past. Check out my previous reviews of their other lines
here
.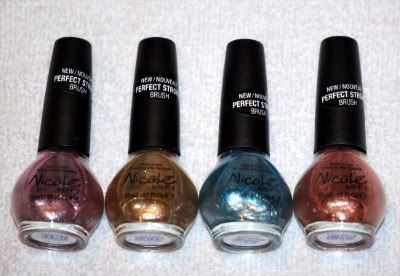 This one is actually from Nicole by OPI. And the colors in the line are (from left to right):
Miss Independent
The Next CEO
Rich in Spirit
It Starts with Me
I really love these colors. They're super shiny and really are the definition of "Liquid Metals."
"Dress your nails with Liquid Metals to make a chic fashion statement with a high-shine finish," says Suzi Weiss-Fischmann, Nicole by OPI's Executive VP & Artistic Director. "Metallic shades are perfect to wear with all clothing colors, adding some easy edge to your wardrobe."
I really liked Rich in Spirit the best just because I'm always a huge fan of blues and greens over any other colors and it looked really great on.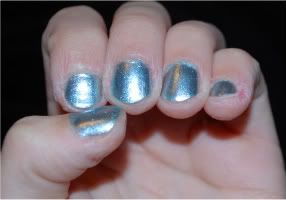 Almost silver but with a blue tint, I like how it's metallic but not sparkley and it does go with practically everything. It gives you just the perfect flash of color to pop out with an outfit without looking gaudy or cheesy. They're metallic but still quite classy colors, much like their names. I really loved their names, such confident names to go with equally confident colors. My favorite pairing though was The Next CEO, because when you think CEO you think money, cashh money, so why not pair that name with a solid gold color. Literally. The Next CEO looks like liquid gold, it is fantastic.
The other two colors are equally great as well, Miss Independent is a perfect metallic pinkish purple and It Starts With Me is a great metallic sandy, corally, champagne. The pictures of the bottles do not do any of the colors justice because of their shine, they all look great on your fingers. Take my word for it, or just check out how Rich in Spirit looked on my nails. Pretty awesome.
Buy It!
Liquid Metals will be available January 2011 at ULTA, Walmart, Target, Sears, Harmon, HEB and Wegmans. Or check out
Nicole by OPI's website
for more information!