Hey everyone! So my next review is for Nicole by OPI's exclusive Walmart line of nail lacquer simply titled
Nicole ♥ Walmart
. Once again, I'm a huge fan of OPI and just did a review of theirs the other day as well has done some in the past if you want to see the previous reviews check them out
here
.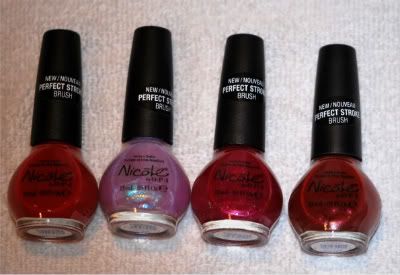 The colors in the line are (left to right):
He's a Keeper
Count on Me
Never Give Up
Got Style?
The picture is not the best picture so let's go over the colors a bit. He's a Keeper is a nice classic red, not super bright not dark, classic simple red. Count on Me is a light purple, lavender, very shimmery but you have to put on quite a few coats because it's so light it's more clear than the others. Next is Got Style? Which is a hot pinky color with sparkles. Nicole by OPI describes this as mauve, I'd say a light mauve, a hot pink version of mauve. Lastly, Never Give Up is an almost burgundy, but more of a sparkly dark reddish brown. Nicole By OPI's description of this color is plum, I disagree, there's really no tint of purple to this color to me, mostly just dark red.
Overall, this line is pretty great, even though I'm not a huge fan of pinks and reds, they still have pretty colors. Specifically, I do love the He's a Keeper color, it's not one of those bright cheesy reds but just your basic red that goes with everything. I like it because it's not super flashy but still sticks out in it's own way. I also like Count on Me but wished it wasn't so light, you have to put a lot of coats on your nails to really see how pretty it is. The other two are cool too.
Definitely a great line for pink and red nail fans out there. Also it's really cool that this line is exclusive for Walmart because it gives you an inscentive to shop there or to buy these specific colors because not many people will have them.
Buy It!
Nicole ♥ Walmart will be available January 2011 at Walmart. Or check out
Nicole by OPI's website
for more information!