Hey everyone! So my next review is for
Zuvo Water
. As the website says:
"The Zuvo Water Purator replicates nature's water-cleansing process, reducing contaminants while preserving your water's natural and healthy mineral content."

Not going to lie, when I received this huge cylinder, pretty reminiscent of the Teenage Muntant Ninja Turtles 2
Ooze Canisters
, I was pretty intimidated. It looks pretty complicated to set up and then you read the instructions, and you relax, because actually it's fairly easy to set up.
My dad actually set it up for me and we put it in the kitchen sink. It took him 10 minutes, tops, to set up. It comes with it's own set of tubes and you screw this little faucet thing under your faucet spout. The faucet piece has a little pin that you pull out when you want to use the filtered water and push back in when you're done using the filtered water. You can only use cold fitered water though, no warm water. One negative about it is when you turn off the faucet after using it the faucet drips for a bit, I guess because there's some excess water in the tubes. But other than that it works perfectly.
It's actually pretty cool to watch, too. When you pull the pin out the Zuvo Water cylinder lights up in a blue ultraviolet light so you can actually see the water being filtered.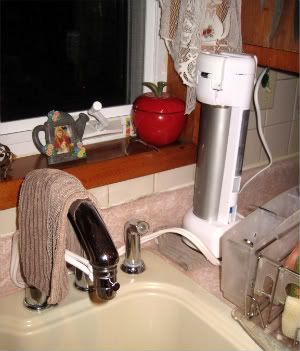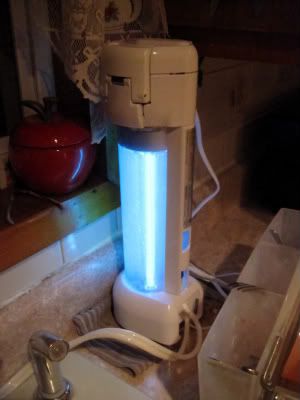 Once the water is filtered it looks a little foggy but that's because all the bubbles haven't settled yet. But the water tastes fine. Delicious and refreshing!
For the New Year, Zuvo Water is introducing its new Zuvo 150 Water Filtration System. Priced at less than $150 — a fraction of other automated water filtration systems — this is the low-cost high-volume easy to install home water filtration system that everyone has been waiting for! It's elegantly designed, high tech and easy to use.
Zuvo is not only good for you but good for your wallet and for the environment too. You get healthy water for only $.06/gallon versus $.20/gallon for pitcher water and over $1.00/gallon for bottled water. 60 million plastic water bottles that end up in our landfills every year, by using Zuvo and using filtere tap water instead of bottles, you help make that number decrease a little less.
Definitely check out Zuvo Water, it's a great water filtration system also a great and charitable company. It donates 5% of it's products' earnings to communities around the world that do not have portable drinking water. They even sell a stainless water bottle for $9.95 where all proceeds of that bottle go to the
Hippo Roller Project
.
Buy It!
Head on over to
Zuvo Water's website
to buy an awesome filtration system for your own or one of those great stainless steel water bottles, or both! You won't be disappointed!
Win It!
ONE winner will receive a Zuvo 150 Filtration System!
1. Go to
Zuvo Water's website
and comment on this post telling me a fact you learned.
Please answer this question or else your comment will not count! You must do this first or future entries will not be counted.
(1 entry)
BONUS ENTRIES
2. Follow starIMPULSE on blogger. (2 entries!)
3. Subscribe by Email and Confirm that Subscription (1 entry)
4. Follow me on Twitter. (1 entry)
5. Tweet about this giveaway and send me a direct link to that tweet, you can do this once a day. (1 entry per day)
6. Subscribe to my YouTube channel. (1 entry)
7. Add my StarIMPULSE button to your sidebar and send me think link to your blog so I can see it. (1 entry)
8. Add StarIMPULSE to your blogroll (using my URL), with a link back to me! (1 entry)
ONE winner will be chosen on January 24, 2011 at 5:00pm (EST) and then will be emailed.
Alternate winners will be chosen if winner does not respond after 48 hours. This contest is only open to all US Residents. Thank you and good luck!
Disclaimer-
I was provided a product in exchange for my review.
You can read more about my blog policies in my disclaimer.