Hey everyone! So my next review is for
OPI's new Katy Perry line
of nail lacquers. I saved this line for last out of the three latest OPI reviews because it's the most hyped about one mainly because if it's awesome and intriguing nail polish called Black Shatter. If you want to read my previous OPI reviews go
here
.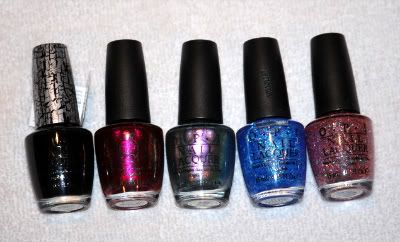 The colors in this line are (from left to right):
Black Shatter
The One that Got Away
Not Like the Movies
Last Friday Night
Teenage Dream
I really liked the colors in this line because there was such a variety. The One that Got Away is a fabulous magenta, dark berry color with a bit of sparkle. Last Friday Night and Teenage Dream are both sparkley transparent colors of blue and pink but still are so pretttty. But the one that was so different and unique and my favorite was Not Like the Movies. It's hard to tell you what color this is because it changes all the time. It's like one of those sea shells on the inside that has that shiney silvery, pinky, purpley, greeny color, yeah that's this color but you can wear it on your nails. It's amazing needless to say it was the first one I tried on along with the hyped Black Shatter.
Before I show you a picture, let me explain the Black Shatter, because it's what the name is. It's a black polish that creates a shattered effect on your nails. All you have to do is put one coat over your polished nails and the polish does it's own shattered effect its self. It pretty awesome, to say the least.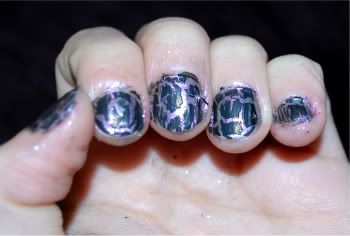 I really like this effect, I wish I had longer nails though because it kind of looks a little weird on my stubby little nails. I'm sorry, I'm a biter, that's why I try and polish them so I can stop biting, haha. But it's really cool, I'm curious to see how long the shatter will stay on or if it'll chip off quickly because it's shattered. But then again, OPI is a very popular nail lacquer that is known for not being crappy and chipping off easily, so I have faith in this shatter effect. I keep saying it's so cool but it really is! I just keep staring at my nails because it just looks so cool on. It creates such a unique effect and yet is so easy to use that anyone from people that suck at painting nails (aka me) to professionals can use it with a breeze!
Also that's the Not Like the Movies color underneath the black shatter and it looks kind of purpley silver underneath in the picture and it's just really pretty even without the black shatter.
Overall, this line was so awesome all the colors are great and the Black Shatter definitely lived up to the hype, it's so easy to use and looks amazing. Definitely one of my ultimate favorite OPI nail lacquer lines. Go Katy Perry! Woo!
Buy It!
The Katy Perry line will be available January 2011 at ULTA, Walmart, Target, Sears, Harmon, HEB and Wegmans. Or check out
OPI's website
for more information!