Hey everyone! So my next review and giveaway is for
Smiley Cookies
. Smiley Cookies is a great website with a variety of happy cookies for special occasions or just for a regular day. Not only do they taste delicious but they make you feel so happy because each one has a smiley face! I got a box of the originals to try.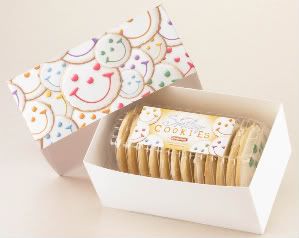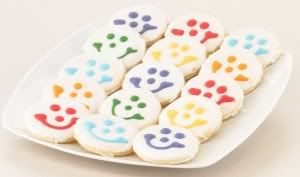 The presentation of the cookies was very lovely, they came in a very durable box that you can save after you use the cookies and put knick-knacks or anything in, happy things though because there's a bunch of smiley-faced cookies on the box. :) I'm keeping it and putting photos in it.
As the website says:
"The prototype. The icon. The one-and-only Smiley Cookie — a classic American sentiment, revered by young and old, that says happiness, warmth, yes and more — baked fresh in our ovens, sent straight to your door! That rhymes."
These cookies are incredible. They look like average regular, super happy cookies right? WRONG. You can tell that they're baked fresh because they're so soft and sweet. All twelve of these cookies were gone in less than two days from my house. My family couldn't get enough of them. By my family, I mean mostly my dad and I. My mom did have two though! Oh wow, that means that me and my dad had like 5 each within less than two days, hahaha. But they were so great, that's why! They taste like fresh baked black and white cookies minus the black part because there's no chocolate. While I am a huge fan of chocolate, which is why I was a bit skeptical to try these being that I don't eat many cookies and when I do there's chocolate involved. But these, these, are an exception. They are just soo good!
Another great thing about these is that they start at just $12.99! $12.99 for nice sized a dozen Smiley Cookie originals. You know what? They are so worth it. I was honestly expecting them to be a lot more money.
They have a huge selection too, one thing I don't like that they have are Steeler cookies (boo!!) but they have cookies for every occasion, including Christmas trees and shamrocks with smiley faces on them!
Overall, if you're a fan of sweets you will be a fan of Smiley Cookies. They're so delicious. But eat them quick because they're preservative free! You definitely won't be disappointed though, they're just so delicious!
Buy It!
Head on over to
Smiley Cookies' website
and browse their selection. If you join the Cookie Club you get $5 off your next order!
Win It!
ONE winner will receive a dozen original Smiley Cookies for themselves!
1. Go to
Smiley Cookies' website
and comment on this post telling me what cookies you'd like to try next.
Please answer this question or else your comment will not count! You must do this first or future entries will not be counted.
(1 entry)
BONUS ENTRIES
2. Follow starIMPULSE on blogger. (2 entries!)
3. Subscribe by Email and Confirm that Subscription (1 entry)
4. Follow me on Twitter. (1 entry)
5. Tweet about this giveaway and send me a direct link to that tweet, you can do this once a day. (1 entry per day)
6.Subscribe to my YouTube channel. (1 entry)
7. Add my StarIMPULSE button to your sidebar and send me think link to your blog so I can see it. (1 entry)
8. Add StarIMPULSE to your blogroll (using my URL), with a link back to me! (1 entry)
ONE winner will be chosen on February 7, 2011 at 10:00pm (EST) and then will be emailed.
Alternate winners will be chosen if winner does not respond after 48 hours. This contest is only open to all US Residents. Thank you and good luck!
Disclaimer-
I was provided a product in exchange for my review.
You can read more about my blog policies in my disclaimer.