Hey everyone! So my next review and givaway is for
Finlandia Cheese
. Finlandia Cheese is the #1 imported cheese brand in the U.S. and offers the most extensive line-ups of premium, all-natural, imported cheeses available in the supermarkets. I received a coupon to get a free Finlandia cheese of my choice as well as 2 discounted coupons. I chose the Swiss deli slices to try out.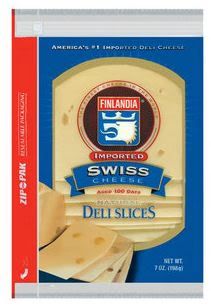 I actually tried these deli slices because my dad saw the coupon and said "Finlandia? They have great swiss." So I bought it for him. I had a slice or two to try out but Swiss isn't a big favorite of mine, but my dad enjoys it. First thing he did when he came home actually was try out the cheese, I didn't even ask him to. He said the cheese was just like he remembered it and definitely one of his favorite swiss cheeses. He proceeded to attack at least two more slices of cheese.
It's definitely a mellow flavor, not strong but still super great. It's great for sandwiches especially with deli meats to kind of give a small kick to the coldcut tastes. What I actually liked about these deli slices was how easy they were to peel from one another. Typically deli slices stick together and end up falling apart when you try to peel them off but these came off quite easily. I know, random tidbit, but I actually really really liked that, haha.
But Finlandia is also great because they offer consumers cheeses that are all natural, lactose free and hormone free. Finlandia Cheese is committed to the highest farming ethics, producing the most pure, wholesome and flavorful products. They have a variety of flavors too like gouda, muenster, and havarti. They come in deli slices, deli sticks, and even sliced to order cheeses that you can get sliced from your supermarket's deli selection. Recently they just came out with Lacey Swiss, all natural, contains no hormones and is naturally lactose free. Lacey Swiss contains 25% less fat than regular Swiss and is available sliced-to-order from the deli department. Due to the fact that Finlandia Lacey Swiss is aged for 60 days, anyone who tries it will likely to notice its full flavor that is its key point of differentiation. Lacey Swiss first launched in NJ and is slowing gaining national distribution!
Included in the packet they gave me were also some ideas for recipes like the Classic Lacey Swiss Sandwich; Hot Spinach, Artichoke, & Swiss Cheese Dip; and the Swiss Fondue. To check out these recipes and more check it out on their website here:
Tasty Recipes
.
Overall, Finlandia cheese is really great and definitely worth checking out and eating. If you're a fan of cheese you will be a fan of Finlandia, that's for sure.
Buy It!
Head on over to
Finlandia's website
to browse
their selection and check out the
Stores
tab to see where they're selling them near you, for me it's a load of stores from Pathmark to Trader Joe's.
Win It!
ONE winner will receive a coupon for a free Finlandia cheese of their choice!
1. Go to
Finlandia Cheese's website
and comment on this post telling me what you would buy with your coupon.
Please answer this question or else your comment will not count! You must do this first or future entries will not be counted.
(1 entry)
BONUS ENTRIES
2. Follow starIMPULSE on blogger. (2 entries!)
3. Subscribe by Email and Confirm that Subscription (1 entry)
4. Follow me on Twitter. (1 entry)
5. Tweet about this giveaway and send me a direct link to that tweet, you can do this once a day. (1 entry per day)
6. Subscribe to my YouTube channel. (1 entry)
7. Add my StarIMPULSE button to your sidebar and send me think link to your blog so I can see it. (1 entry)
8. Add StarIMPULSE to your blogroll (using my URL), with a link back to me! (1 entry)
ONE winner will be chosen on February 4, 2011 at 5:00pm (EST) and then will be emailed.
Alternate winners will be chosen if winner does not respond after 48 hours. This contest is only open to all US Residents. Thank you and good luck!
Disclaimer-
I was provided a product in exchange for my review.
You can read more about my blog policies in my disclaimer.