Hey everyone! So my next review is for
Wholly Products
. Wholly is a great snack company known for it's dipping snacks such as Wholly Guacamole, Wholly Queso, and Wholly Salsa. I was lucky enough to receive a cool prize pack to review them all, along with a few other goodies.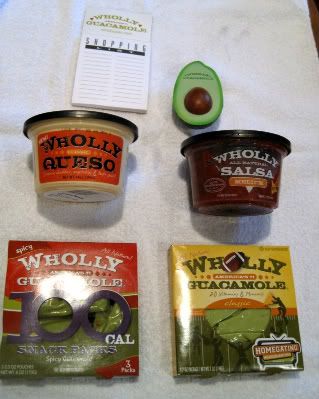 What came in the package:
Wholly Guacamole
Wholly Guacamole 100 Calorie Snack Packs
Wholly Queso
Wholly Salsa - Medium
An Avocado-shaped Stress Ball
A Wholly Guacamole Shopping List
I also received a Holiday card from them with a coupon for a free Wholly item, but I haven't used that yet being that I received this giant lot of delicious dipping snacks.
I'm a huge fan of Wholly Guacamole and just guacamole in general, so I was super pumped to review them. It was pretty delicious, to say the least. Sometimes guacamole is too spicy or not spicy enough, lucky this one was perfect. Much like the Wholly Salsa, not to hot but not not hot, you know? Perfect. I loved the chunks too. Sometimes with guacamole there's no chunks or it's all chunks because someome was too lazy to cut up all the avocados. This was not like it. I just didn't know why the guacamole came in a box and not a container like the salsa and the queso. It a bit messier, I'd rather just dunk it in a container like the other two.
I really like the snack packs too especially that they're only 100 calories. Guacamole is great but as you keep eating it the calories stack up. These are great, you can take them anywhere, but again I wish they came in one of those little containers not a plastic bag thing, it's too messy for me. But still delicious! This guacamole is even greater because it is all natural with 20 vitamins and minerals in every portion. The snack packs were actually the spicy guacamole, not the regular, but it tasted great. I kind of like the spicy a little better because it has more of a kick, but the classic is great too.
The queso was great but it was a little watery. But still tasted delicious. I love cheese dips and this ranks up there as one of my favorites. It is a delicious blend of premium ingredients and a flavorful mix of cheddar cheese, fresh-tasting veggies, and just the right amount spice that will leave your party guests begging for more. The Wholly Salsa is great too, I always get medium because it's not too hot yet not completely mild, I like a little kick and medium is just the right amount.
Another great thing about Wholly products is that they are naturally free of chemicals and pathogens while retaining all of the great, fresh taste!
Overall, all of these snack dips are delicious. They're perfect for parties especially for those parties you guys are going to be having for the Super Bowl coming up or even for Playoff tailgating. Definitely check them out, especially if you love guacamole, cheese, and salsa as much as I do! You won't be disappointed. Wholly products are definitely up there for one of my favorite snack dipping companies.
Buy It!
Head on over to
Wholly's website
and click on the
Where to Find Us
tab to see where they're selling it near you. Looks like Stop & Shop and Wal-Mart sells it near me! Also check out
Homegating HQ
to find super awesome ways to get coupons for Wholly, just in time for your sports party!